Rivals Say Google Plays Favorites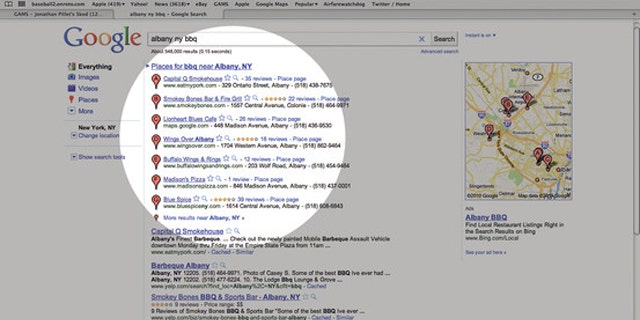 Google Inc. increasingly is promoting some of its own content over that of rival websites when users perform an online search, prompting competing sites to cry foul.
The Internet giant is displaying links to its own services—such as local-business information or its Google Health service—above the links to other, non-Google content found by its search engine.
Google, which is developing more content or specialized-search sites in hopes of boosting ad revenue, says that prominently displaying links to them is more useful to Web searchers than just displaying links to sites that rank highly in its search system. But the moves mean Google increasingly is at odds with websites that rely on the search engine for visitors.
Those companies say their links are being pushed lower on the results page to make room for the Google sites. Critics include executives at travel site TripAdvisor.com, health site WebMD.com and local-business reviews sites Yelp.com and Citysearch.com, among others.
"There is no denying that today Google is competing [with many websites] for the same Web traffic and the same advertising dollars," said Jay Herratti, chief executive of CityGrid Media, a unit of IAC/InterActiveCorp. that owns Citysearch and sister sites Urbanspoon.com and InsiderPages.com.

Read more: The Wall Street Journal