Rare white moose takes dip, goes viral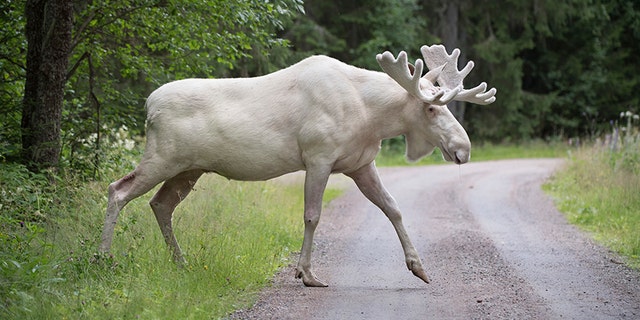 A white moose in Sweden has gone viral thanks to video footage of the rare animal taking a dip.
P4 Varmland Sveriges Radio reports that Hans Nilsson shot the video Aug. 11 in the Swedish province of Varmland. "The white bull moose came swimming straight towards his camera," it reported, in a Facebook post. Nilsson had been searching for the rare animal for three years, according to P4 Varmland Sveriges Radio.
PHOTOS: EXTREMELY RARE 'PALE TIGER' PHOTOGRAPHED FOR THE FIRST TIME EVER
The video of the moose entering and emerging from a stream has been viewed more than 1 million times on Facebook. It has also racked up more than 3,000 comments and almost 19,000 shares.
The Associated Press reports that there are only around 100 white moose in Sweden. The animals are not albino, but grow white fur due to a generic mutation.
There are more than 400,000 of the more common breed of moose in Sweden, according to The Independent.
RARE ALBINO DOLPHIN SPOTTED OFF CALIFORNIA COAST
Last month, an extremely rare pale tiger in Southern India also went viral after it was photographed for the first time.
In June, a rare albino dolphin was spotted off the coast of California.