Raider and Valor helicopters take spotlight at AUSA conference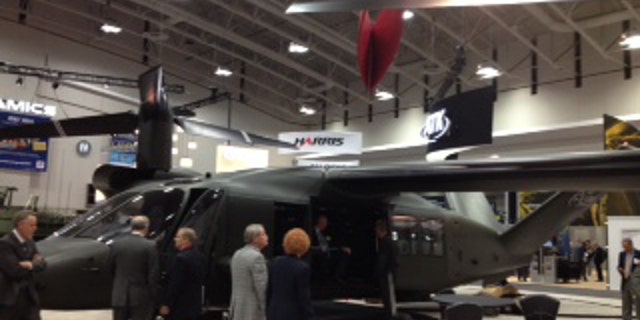 Representatives from the U.S. Army, both active duty and retired, are converging on the nation's capital this week for briefings, award ceremonies, and the opportunity to window shop the latest and greatest in land warfare tech.
Held over three days every October at the Walter E. Washington Convention Centre in Washington DC, the Association of the United States Army (AUSA) Annual Meeting & Exposition is one of the biggest land warfare expos in the world.
The Army is being forced to absorb severe cuts and the threat of sequestration at a time when the nation faces proliferating threats. And with these increasingly tight budgets, competition between companies offering military tech has become even fiercer.
More than 500 Army & Industry exhibitors are showcasing their wares across a sprawling 250,000 square feet of exhibit space.
AUSA attracts a mix of active and retired military personnel from the U.S. and overseas. Last year more than 28,000 people attended the event.
In recent years, senior leadership like the vice president, the secretary of defense, the chief of staff, and secretary of the army have attended.
Throughout the three days, professional development forums are held for soldiers, non-commissioned officers, officers, Army family members, and industry executives. Army Secretary John McHugh opened the forums with a keynote address on Monday.
The Army's new operating concept announced last week is expected to feature heavily in many of the briefings. In the foreword, Army Chief of Staff Gen. Ray Odierno explained the new approach aims to "prevent conflict, shape security environments and win wars."
On Tuesday morning Homeland Security Secretary Jeh Johnson delivered a briefing on "Defense Support to Civil Authorities." Odierno delivered a midday briefing.
Even 'Lt. Dan' from the film "Forrest Gump," aka actor Gary Sinise, is making an appearance to announce a new "Get Skills to Work" campaign focused on veterans and the manufacturing industry.
Wednesday speakers include Defense Secretary Chuck Hagel, who is due to address an invitation-only member lunch.
And while briefings are conducted throughout the conference, two enormous spaces are also flooded with the latest in land warfare tech for attendees to explore.
Day one wow factor
The military tech exhibition floors are packed with some of the latest advances in land warfare tech -- from knives, helmets, and flashlights through to heavily armored vehicles and next-gen helicopters.
And for wow factor, two state-of-the-art helicopters – Raider and Valor - stole the show day one.
Unmissable, the helos are displayed across from each other near the entrance to the upstairs show floor. A huge draw, both helicopters are attracting people who are eager to check them out and to take selfies with the aircraft.
V-280 Valor
Textron division Bell Helicopter is showcasing its Bell V-280 Valor model.
Valor is said to offer a whopping twice the speed and range of conventional helicopters, more than doubling operational reach.
And get this – it is self-deployable – meaning it does not require logistical support for missions within a range of 2,100 nautical miles.
Valor uses state-of-the-art tiltrotor technology, giving it vertical takeoff and landing (VTOL) capabilities. Textron says it will offer unmatched operational agility to self-deploy and perform a multitude of vertical lift missions unachievable with current aircraft.
For medical evacuations, Valor can cover five times the area of current MEDEVAC helicopters.
Its fuel efficiency has been improved, helping to reduce both costs and logistics burden to sustain fuel demands.
Valor has a top speed of about 280 knots per hour (322 miles per hour) and a combat range of 500 to 800 nautical miles.
It can carry a crew of four with 14 troops, taking a maximum load of about 12,000 pounds.
The two six-foot wide side doors are designed for rapid boarding and dismounting from the aircraft.
The Bell V-280 program aims to build an affordable and effective aircraft as part of the U.S. military's Joint Multi-Role Technology Demonstrator (JMR-TD) program.
The Raider
Sikorsky chose AUSA to reveal its S-97 Raider prototype designed to enhance combat operations with increased maneuverability, endurance, and high altitude operating ability.
The Raider also travels at twice the speed of conventional helicopters – a swift cruise speed of 253 miles per hour.
The cockpit fits two pilots an in an assault configuration and Raider can also carry up to six combat-equipped troops. For armed reconnaissance, additional fuel and ammunition could be carried.
The helicopter's composite airframe has a maximum gross weight of about 11,400 pounds.
The aircraft will be capable of carrying a range of weapons like Hellfire missiles and 2.75-inch rockets, as well as 50 caliber and 7.62-mm guns.
Without refueling, Raider can conduct missions for about 2.7 hours across a range of more than 373 miles. It can also perform well in challenging conditions, like 10,000 feet in 95 degrees Fahrenheit.
Raider has a low acoustic signature and integrated thermal management system.
This next-gen helicopter uses Sikorsy's X2 technology. In 2010, the X2 Technology Demonstrator unofficially broke the rotorcraft speed record by travelling faster than 250 knots (288 miles per hour).
The Raider has been in development since 2010 with a view to replacing the U.S. Army's OH-58D Kiowa Warrior helicopter fleet and for special operations use.
A similar design is also the basis for Boeing and Sikorsky's bid for the Army's Joint Multirole Technology Demonstrator.
Ballet dancer turned defense specialist Allison Barrie has traveled around the world covering the military, terrorism, weapons advancements and life on the front line. You can reach her at wargames@foxnews.com or follow her on Twitter @Allison_Barrie.