Radar-in-a-backpack can keep soldiers from being ambushed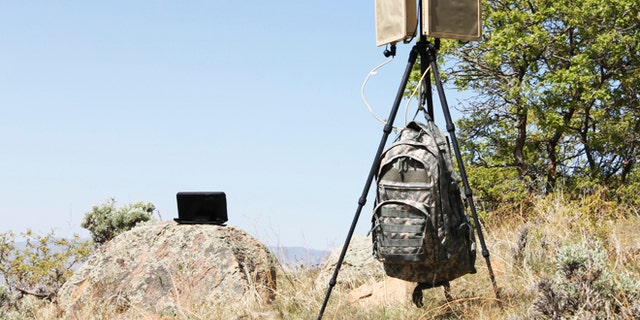 The world's first radar kit to fit into a backpack heralds a new class of surveillance that, in spite of its small size, is still capable of tracking a person to within a kilometer.
In all weather conditions regardless of visibility, this little system provides more than 150 acres and 90 degrees of wide area intrusion detection. The textbook-sized SpotterRF M600 is designed to be easily carried by a soldier, airman, seaman, or other fighter, has no moving parts and takes about three minutes to set up.
The entire kit weighs less than 20 pounds and includes two M600C radars, a network hub, an Android-powered tablet, a tripod, cables and a three-day backpack.
"This unique kit dramatically enhances situational awareness for warfighters with minimal change in weight and training," said SpotterRF CEO Logan Harris.
The Spotter radar units themselves are very lightweight and require little power -- each uses less energy than a light bulb, just 10 watts a piece, meaning they won't sap the battery too quickly. Available in four sizes, each weighs in at less than four pounds.
The radar units can communicate with Google Earth, Falconview, RaptorX and other situational awareness software.
Easy to use, the training on these radar systems takes less than 30 minutes.
For rapid 360 degree coverage, SpotterRF's new network hub automatically detects and manages the attached radars. It also provides a secure Web-based interface that is compatible with smartphones, Android tablets and PCs.
The Digital Compass option automatically works out the radar's orientation making setup time even faster.
"SpotterRF was founded with the mission of helping to reduce the number of ambush casualties of our elite forces," the Orem, Utah-based company says.
SpotterRF's M600 was built to protect soldiers by giving them an ambush alert when someone approaches their position. Intrusion detection and alert take the element of surprise away from the enemy.
In effect, this system improves situational awareness and force protection for small-unit operations without adding significant training or weight to the dismounted soldier.
Radar surveillance is an unlikely backpack item, to say the least; it's traditionally found in far larger systems used for large force protection.
For example, the Ground Based Operational Surveillance System (G-BOSS, which built off the popular system used in Operations Enduring Freedom and Iraqi Freedom) uses sensors housed in elevated towers to detect hostile movement.
In 2008, Raytheon was awarded a $60 million contract to provide the U.S. Marine Corps with a GBOSS elevated sensor systems with that can be operated remotely.
Base Expeditionary Target Surveillance Systems-Combined (BETSS-C) is another system far larger than a backpack. Throughout Iraq, BETSS-C is used to improve perimeter surveillance and protection at combat outposts and forward operating bases (or FOBs).
In this system, radar dishes may be mounted on towers, lightweight airships called aerostats, and unmanned drones. This system also includes infrared sensors and other data from ground sensors, as well as pan-tilt-zoom cameras.
Miniaturizing radar surveillance capability means making it more accessible to the individual warfighter or small combat posts.
To view tracks on handhelds as well as set alert or ignore zones, the warfighter can use the SpotterRF mobile browser interface. The interface allows users to see approaching tracks, MGRS coordinates, range and angle.
The 2010 documentary film "Restrepo," directed by Sebastian Junger about the war in Afghanistan, documented the challenges of setting up an outpost and the threat of ambushes that warfighters regularly face.
Giving elite forces working in the most remote locations perimeter security and the ability to detect and follow hostile movements with a miniaturized radar small enough and lightweight enough to be thrown in a backpack can only be a good thing.
Ballet dancer turned defense specialist Allison Barrie has travelled around the world covering the military, terrorism, weapons advancements and life on the front line. You can reach her at wargames@foxnews.com or follow her on Twitter @Allison_Barrie