President Obama warned Mark Zuckerberg about fake news on Facebook, report says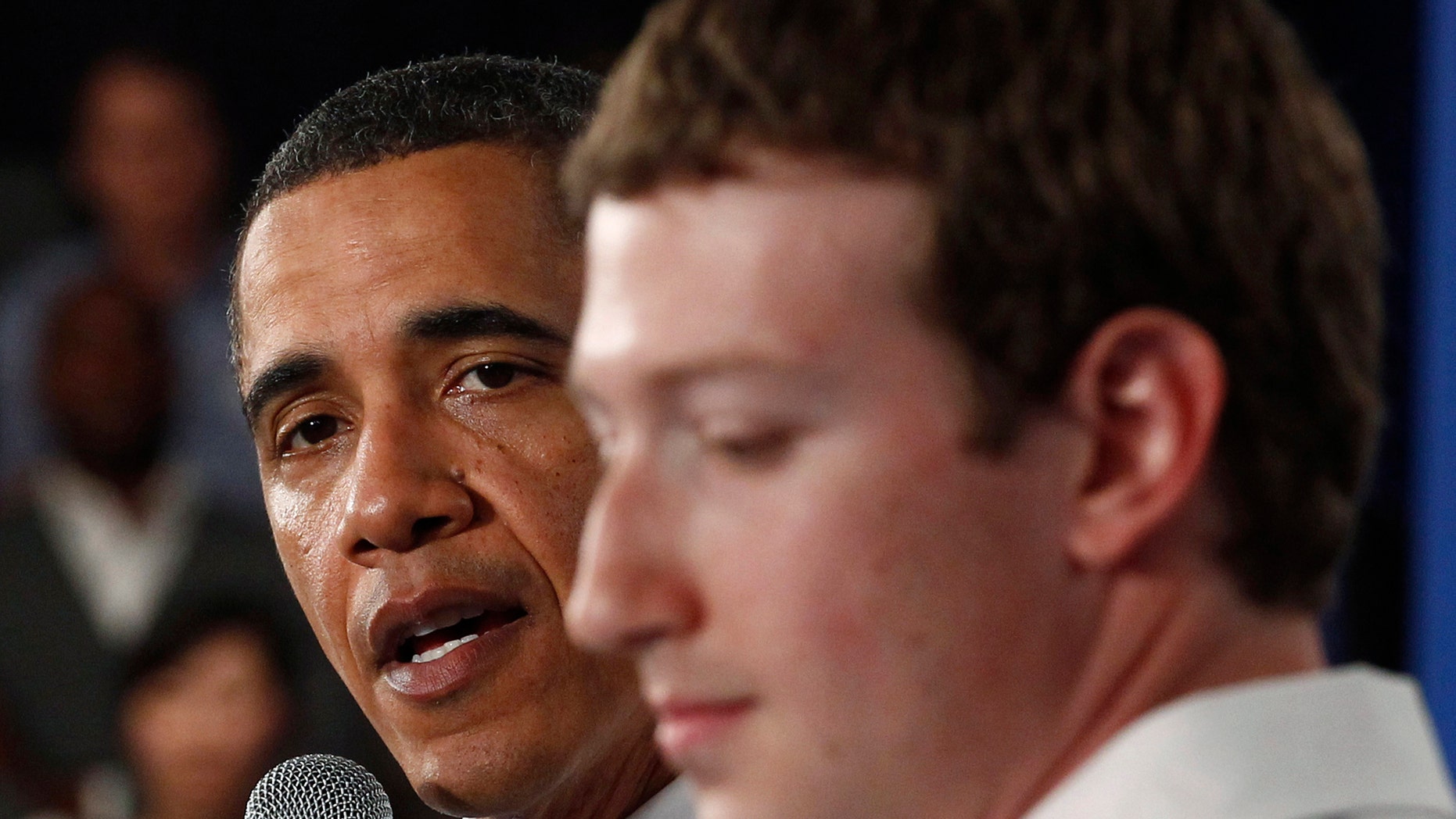 President Barack Obama reportedly warned Facebook CEO Mark Zuckerberg about the threat posed by fake news on the social network during a private meeting last year.
The Washington Post reports that Obama urged Zuckerberg to take the threat of fake news and political disinformation seriously during a private conversation at a meeting of world leaders in Lima, Peru, last November.
The meeting took place following the 2016 U.S. Presidential Election and nine days after Zuckerberg described the notion that fake news influenced the outcome of the election as "crazy," according to the Washington Post.
FACEBOOK UNCOVERS $100G IN FAKE AD SPENDING TIED TO RUSSIAN OPERATIVES DURING 2016 ELECTION
Citing people briefed on the exchange, who spoke on condition of anonymity, the Washington Post reports that Zuckerberg acknowledged the problem posed by fake news. The Facebook chief also reportedly told Obama that fake news messages were not widespread on the social network and there was no easy remedy to the problem.
"We appreciated President Obama's attention to these issues," explained Elliot Schrage, Facebook's vice president for public policy and communications, in a statement emailed to Fox News Monday. "Their conversation was about misinformation and false news, which Mark had addressed the previous day in a post that outlined specific steps Facebook was taking to combat these challenges. The discussion did not include any references to possible foreign interference or suggestions about confronting threats to Facebook."
Representatives for President Obama have not yet responded to a request for comment on this story from Fox News.
Facebook's battle against fake news comes amid investigations into alleged Russian meddling in the 2016 election, which Russia denies.
FACEBOOK WILL RELEASE RUSSIA-LINKED ADS TO CONGRESS, MARK ZUCKERBERG SAYS
Earlier this month, Facebook announced that it uncovered $100,000 in fake ad spending tied to Russian operatives during the 2016 U.S. Presidential Election. "In reviewing the ads buys, we have found approximately $100,000 in ad spending from June of 2015 to May of 2017 — associated with roughly 3,000 ads — that was connected to about 470 inauthentic accounts and Pages in violation of our policies," wrote Facebook's chief security officer Alex Stamos, in a post. "Our analysis suggests these accounts and Pages were affiliated with one another and likely operated out of Russia."
While the vast majority of ads didn't reference the election, voting, or a particular candidate, they did focus on amplifying divisive social and political messages such as LGBT matters, race, immigration and gun rights, according to Stamos.
Last week, Zuckerberg said that Facebook would release the Russia-linked ads to Congress. During a Facebook Live Chat, the Facebook CEO also said that the company would strengthen its ad review process for political ads.
PRESIDENT TRUMP SUGGESTS FACEBOOK AD CONTROVERSY PART OF 'RUSSIA HOAX'
Facebook announced a strategy to tackle fake news in December 2016, making it easier for users to report fake news when they see it, and harnessing fact checking. Earlier this year, Facebook also revamped its systems to make it harder for fake news to be spread and eliminate fake accounts.
Jason Mollica, a digital media expert and professor at American University in Washington, D.C, feels that Facebook did not initially realize the extent of the fake news threat. "If you look at how Facebook looked at it, they were very slow to the jump," he said, adding that company's efforts are improving. "I do believe that Facebook, Twitter, and these other social networks are doing the best job they can to resolve this fake news issue — they are never going to be able to solve it 100 percent."
Mollica compares tackling fake news to finding a needle in a haystack. "It's always going to be out there," he said, adding that only a coordinated response between social media users and social media companies can truly combat fake news.
President Donald Trump has described the allegations of Russian meddling in the election as a "Russia hoax," a theme he returned to on social media last week. "The Russia hoax continues, now it's ads on Facebook," he tweeted Friday.
Follow James Rogers on Twitter @jamesjrogers