Pokemon NO . . . Cemeteries chide gamers who trample sacred ground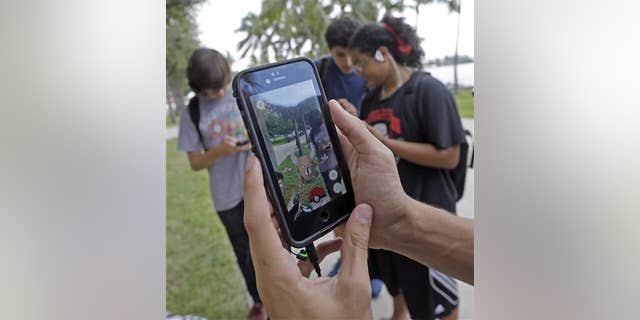 NEWYou can now listen to Fox News articles!
Cemeteries across the country are targeting the new walking dead . . . the hundreds of Pokemon GO gamers descending on sacred ground to catch the sought-after critters.
Hundreds of players using the GPS-driven phone app are showing up at Pioneer Cemetery in Modesto, Calif., and the superintendent says the crowds are leaving trash, trampling graves and disturbing funeral services.
"When I came in here the other night, we had probably 60 to 70 cars in here, and probably two to three hundred people," Cemetery Superintendent Tim Copenhaver told CBS Los Angeles.
Meanwhile, a group of cemeteries in New York is experiencing similar problems with Pokemon GO gamers turning hallowed ground into a competition field day.
Forest Lawn, which operates four cemeteries in Buffalo, West Seneca, Hamburg and Williamsville, wants players to steer clear out of respect for those seeking to mourn their deceased loved ones, WIVB reported.
The group issued a statement on Thursday, part of which read, "While we eagerly welcome and strategically encourage all visitors to experience the beauty and serenity of our cemeteries, and certainly support the idea of getting young people to discover and explore important places in their community, we believe that recreational games such as Pokemon Go run counter to our commitment to maintaining the peace and dignity of our grounds."
Even Arlington National Cemetery and the Holocaust National Museum have been forced to issue dictates to Pokemon Go players using their sacred ground for gaming.
Arlington posted a message to its Facebook page appealing to gamers to steer clear of the cemetery.
"Out of respect for all those interred at Arlington National Cemetery, we require the highest level of decorum from our guests and visitors. Playing games such as 'Pokemon Go' on these hallowed grounds would not be deemed appropriate. We request that visitors to ANC refrain from such activity. Thank you."
"Playing the game is not appropriate in the museum, which is a memorial to the victims of Nazism," Andrew Hollinger, the Holocaust museum's communications director, told The Washington Post. "We are trying to find out if we can get the museum excluded from the game."
But not all cemeteries are being as polite.
Moravian Cemetery in New York City issued a statement warning gamers that "going forward, anyone caught trespassing will be prosecuted to the fullest extent of the law."
"This press conference is about respecting our places in the community that are sacrosanct, places of worship, our cemeteries where we put our loved ones to rest, and also preventing private property from being trespassed upon in our community by people that are using this game," Assemblyman Ron Castorina Jr. said at a press conference Friday at the cemetery, silive.com reported.
Still, one Michigan cemetery is happy to be a part of the fun, even displaying a sign that says "Welcome Pokemon GO players," much to the chagrin of families whose loved ones are buried there.
According to Click on Detroit, Cadillac Memorial Gardens West Cemetery in Westland is open to having the gamers roam the grounds, but families are not happy.
"Usually we come here and there are one or two cars. There must have been 40 or 50 cars and a steady stream coming in and out," Robert Gladstone said, according to the site.
Gladstone and his wife were visiting his parents' graves when suddenly a group formed around them. "And we're standing there, and people are standing next to us thinking that we found a Pokémon," said Sherrie Gladstone.