Pennsylvania police respond to 'strange messages' posted along busy road: 'No reports of zombies'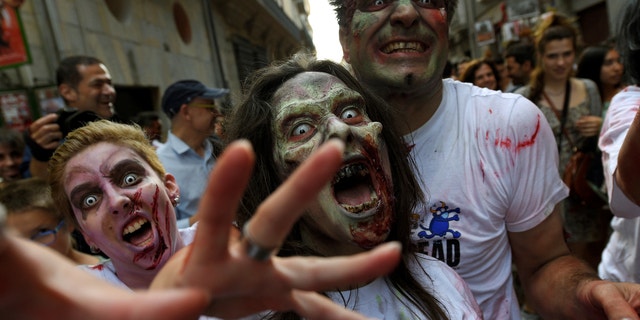 Pennsylvania police were on the hunt for zombies last week after responding to several complaints about a road sign that displayed "strange messages."
"Zombies ahead!! Run!!!" the road sign read, warning of a zombie apocolypse.
Officers with Springettsbury Township Police Department were dispatched to E. Market Street on May 17 to investigate. Cars slowed down as drivers read the unusual sign.
Later that day, police eased the minds of concerned residents.
"We hope there was no public alarm today as there were no reports of Zombies anywhere in Springettsbury Township," the police department posted on Facebook, adding it appeared someone gained access to the Pennsylvania Department of Transportation road sign and typed their own messages.
There was another inappropriate message displayed on the board earlier that day but police didn't reveal what the sign said because it was not "G-rated."
PUNXSUTAWNEY PHIL 'WANTED' BY PENNSYLVANIA POLICE FOR DECEPTION
While some people said they were disturbed by the edited road sign, others admitted it was funny and encouraged residents to have a sense of humor.
"Now that I think of it, considering how zombies move, you don't really need to run. A brisk walk should work just fine."
"When I see this stuff. It makes me LAUGH. And we need that in this society without letting anyone get in trouble! FUN with NO HARM. The Zombies was the best," one woman wrote.
"Now that I think of it, considering how zombies move, you don't really need to run. A brisk walk should work just fine," another joked.
"When you do get a report of zombies, however, how will we be alerted? Thanks," one Facebook user asked.
'SKETCHY' DRAWING OF PENNSYLVANIA THEFT SUSPECT ACTUALLY LEADS TO AN ID
The department replied, "We use the color coded Zombie alert system. Right now we are green. If it ever gets to orange we will release further instructions."
This isn't the first time Pennsylvania police have been in the spotlight. In September, police in Lititz said they were "completely terrified" by an "It"-inspired prank.
The trickster tied red balloons to sewer grates, a move murderous clown Pennywise used to lure children in the horror flick.
"We give points for creativity, however we want the local prankster to know that we were completely terrified as we removed these balloons from the grates and we respectfully request they do not do that again," the Lititz Borough Police Department wrote on Facebook. "If you're not sure what we're talking about, search 'It'and watch the preview, but we suggest watching the preview with a friend or coworker with all the lights on and the sound down low."