OpenLeaks Site Leaked, Forces Premature Launch of WikiLeaks Rival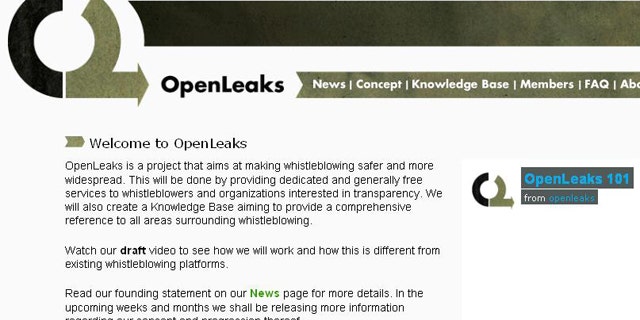 Who leaks the leakers?
The former deputy to WikiLeaks founder Julian Assange has launched a rival document-leaking site OpenLeaks -- after the leaking site's look was itself leaked. Confused yet?
Dubbed OpenLeaks and run by Daniel Domscheit-Berg, Assange's former No. 2 at WikiLeaks, the site was reported to be preparing to launch as early as December. At the time Domscheit-Berg, who was previously involved with German hacker group the Chaos Computer Club, said OpenLeaks would begin trials in early 2011 and turn to bigger media later.
"We are already drowning in applications," he told the Reuters news service.
An impatient tipster couldn't stand the suspense any longer, however, posting a PDF to yet another document-leaking site, named Cryptome.org, and forcing Domscheit-Berg to tip his hat early. OpenLeaks launched Thursday with little fanfare -- and no leaked documents, at least none yet.
Calls to the site were not immediately returned, so it is unclear what information the site has or when it plans to release it, beyond a message posted in the news section that says "we plan to start the beta phase in the second half of 2011, when we shall open the door for more initiatives (ranging from media, to NGOs and unions; anyone who requires the service) chosen both by ourselves, and the public."
Domscheit-Berg has vowed that his site will be more transparent than the original.
In an interview with the OWNI technology website, Domscheit-Berg declined to go into the details of his dispute with WikiLeaks, but suggested it had strayed from its mission.
"In these last months, the organization has not been open any more, it lost its open-source promise," he said in December, adding that OpenLeaks plans to provide the means for leaked information to be published, without itself being a publisher.
According to a manifesto published on the site, OpenLeaks considers itself a non-profit community and service provider for whistleblowers and organizations, media, and individuals who engage in promoting transparency. It makes leaking at a local, grass-roots level possible and allows for certain scalability, the site claims.
U.S. and other authorities have cracked down on WikiLeaks and Assange since the site started publishing thousands of confidential U.S. diplomatic cables that have embarrassed the United States and other parties around the world.
Reuters contributed to this report.