Obama's tweet in response to Charlottesville violence is the most liked ever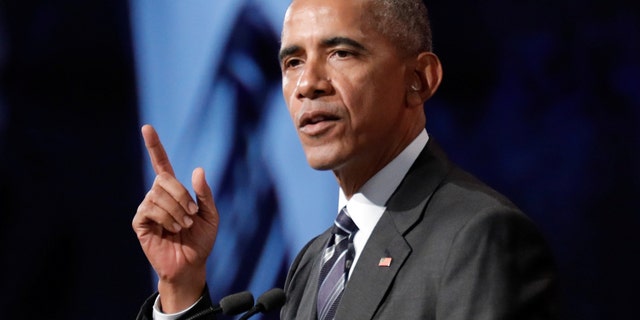 Frormer President Barack Obama's tweeted response to the recent tragic violence in Charlottesville, Va. has set a new record for 'likes' on Twitter.
"No one is born hating another person because of the color of his skin or his background or his religion..." Obama tweeted on Saturday, quoting former South African President Nelson Mandela.
The tweet was accompanied by a picture of Obama smiling at four small children. The picture was taken at a day care facility in Bethesda, Md., in 2011, according to news reports.
"People must learn to hate, and if they can learn to hate, they can be taught to love … For love comes more naturally to the human heart than its opposite," he added in two subsequent tweets.
TWITTER USERS IDENTIFY WHITE SUPREMACISTS AT CHARLOTTESVILLE PROTESTS
Twitter confirmed early Wednesday that the tweet is the most liked ever.
With more than 3.1 million likes, Obama's first tweet has surpassed Ariana Grande's tweet in response to the Manchester terror attack, which racked up more than 2.7 million likes. Obama's tweet is also the fourth most retweeted tweet of all time with over 1.2 million retweets, according to Favstar.
Social media expert and President of JRM Comms, Jason Mollica, told Fox News that he was not surprised that Obama's tweet generated so many likes. "This speaks to what people worldwide, not just in the U.S., feel about the events in Charlottesville this last weekend," he said. "Because he is a former President, he knows that his words have to be measured."
DAILY STORMER DOWN: WHITE SUPREMACIST SITE LOSES DOMAIN IN WAKE OF CHARLOTTESVILLE VIOLENCE
White nationalists had gathered in Charlottesville to protest plans to remove a statue of the Confederate Gen. Robert E. Lee, sparking chaotic scenes that ended in tragic violence. Heather Heyer, 32, was killed Saturday when police say a man plowed his car into a group of demonstrators protesting the planned "Unite the Right" white nationalist rally.
James Alex Fields Jr. has been charged with second-degree murder, as well as three counts of malicious wrongdoing and one count of failing to stop at an accident that resulted in a death.
The events in Charlottesville, which sent shockwaves across the U.S., sparked a backlash on social media. Twitter users, for example, have harnessed the platform to identify white supremacists photographed during the protests. The hashtag #ExposeTheAltRight is also being used.
MICROSOFT CEO CONDEMNS CHARLOTTESVILLE ATTACKS AS 'HORRIFIC' IN EMAIL TO EMPLOYEES
A host of tech executives, including Apple CEO Tim Cook, took to Twitter to voice their dismay at the racist violence in Charlottesville. Intel chief Brian Krzanich also tweeted his condemnation of hate speech and white supremacy.
On Monday, Krzanich exited President Trump's manufacturing council in protest at the administration's response to the unrest in Virginia. Merck CEO Kenneth Frazier and Under Armour chief Kevin Plank are also leaving the council, as are AFL-CIO President Richard Trumka and Scott Paul, president of the Alliance for American Manufacturing.
President Trump was heavily criticized for his initial response to the Charlottesville violence, when be blamed "many sides" for the clashes between white supremacists and counter protestors. On Monday he condemned "neo-Nazis" and "white supremacists," but, in an angry exchange with reporters Tuesday, he again blamed "both sides" for the violence.
The Associated Press contributed to this article.
Follow James Rogers on Twitter @jamesjrogers