Obama's Charlottesville tweet is 2nd most liked ever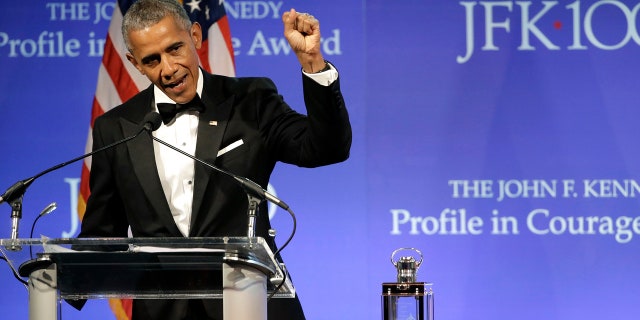 Former President Obama tweeted for the first time in weeks in response to the violence in Charlottesville—and it rapidly became one of the most popular tweets in history.
"No one is born hating another person because of the color of his skin or his background or his religion..." tweeted Obama on Saturday, quoting Nelson Mandela's autobiography Long Walk to Freedom.
With more than 2.4 million likes as of Tuesday morning, the tweet has now passed Ellen DeGeneres' Oscar selfie to become the second most popular tweet in Twitter's history.
Ariana Grande's response to the Manchester concert attack is the most popular tweet ever, with more than 2.7 million likes. Obama followed the tweet up with more words from Mandela, USA Today reports.
"People must learn to hate, and if they can learn to hate, they can be taught to love," he tweeted. "For love comes more naturally to the human heart than its opposite." According to FavStar, Obama also has the fourth most-liked tweet of all time, written on Jan. 10 of this year: "Thank you for everything. My last ask is the same as my first. I'm asking you to believe—not in my ability to create change, but in yours." (This tweet holds the retweet record.)
This article originally appeared on Newser: Obama Charlottesville Tweet Is 2nd Most Popular Ever