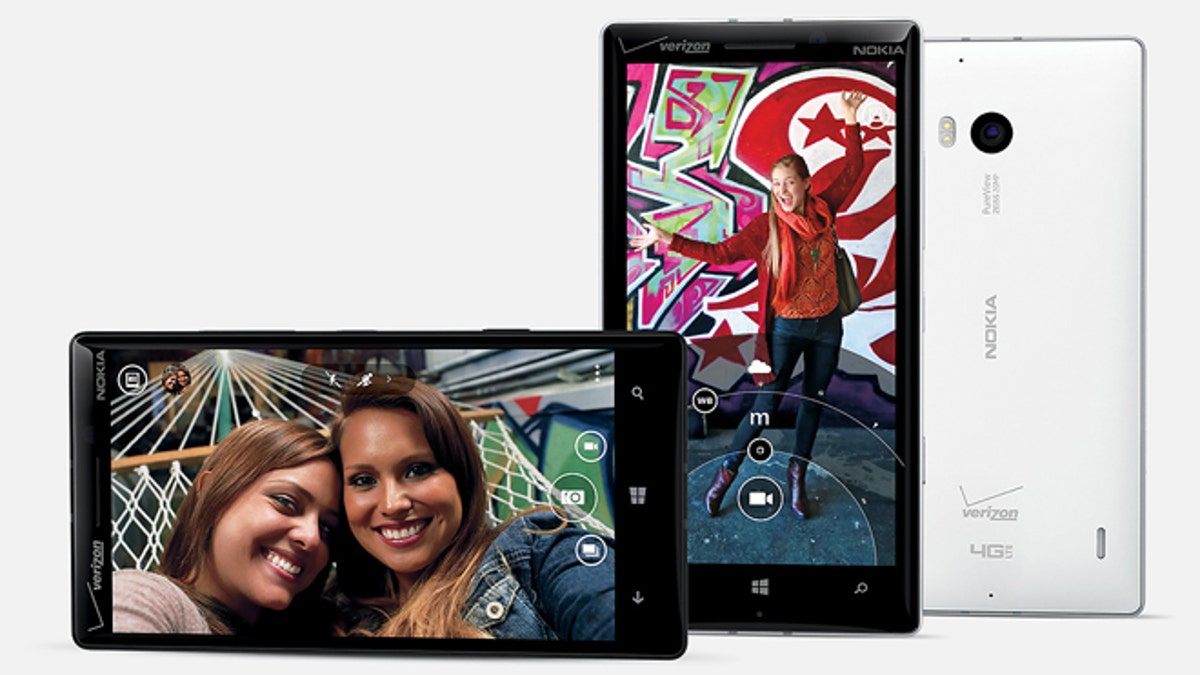 The Nokia Lumia Icon is a refreshing departure from the six-inch-screened behemoths being trotted out by phone makers, including the Nokia Lumia 1520, that are just too large to stow in most pockets or comfortably operate with one hand. At 5 inches, the Lumia Icon's display is plenty big for most smart phone tasks, and you don't have to be a bigfoot to hold it.
Available from Verizon on Feb. 20 for $199, the Lumia Icon is a more compact version of the Lumia 1520, offering the same PureView 20-megapixel camera and a home screen that shows three columns of Live Tiles instead of the typical two. And its 5-inch display presents photos, e-mails, and the colorful elements of the Windows interface vividly and sharply.
The phone measures 5.39 x 2.79 x 0.39 inches and weighs slightly less than 6 ounces, making it a tad thicker and heavier than phones with comparable-size displays. But that extra heft may be due to the phone's built-in wireless charger—a convenience most phones don't include. Here are my impressions of a press sample of the Nokia Lumia Icon that I used for the last few days.
Camera
Nokia marketers have been touting the Lumia Icon's camera more than any other feature. While our engineers are still putting the Icon's camera through its paces, I have a hunch that image quality will be very close to that of the camera on the Lumia 1520. That camera, which used only 18.7 of its 20 megapixels to take photos, produced excellent-quality pictures at ISO settings up to 1600. It also performed very well under low-light conditions, thanks in part to its optical image stabilizer. But Nokia cameras in general haven't fared as well in our video tests.
The Lumia Icon camera interface is excellent. It now fuses a number of convenient auto settings for taking great pictures with the nifty manual controls of Nokia's Pro Camera app.
For instance, when you shoot in Smart Mode, the camera takes a series of 10 photos at 4 frames per second. You can do several things in this mode, depending on the subjects and circumstances of your photo. You can simply choose the best still from the bunch (Best Shot); delete a passerby who may have strayed your picture (Remove Moving Objects); or swap best facial expressions from different pictures to make one "perfect" shot (Change Faces).
On the cheesy side, you can make a composite picture showing one subject in multiple stages of crossing the room, creating an image with an army of clones (Action Shot), or sharply focus on that person while the scenery behind him appears to whir by (Motion Focus).
The Lumia Icon presents an arc of a half-dozen individual manual controls. Those include manual-exposure settings such as shutter speed, ISO, manual focus, white balance, and exposure compensation. Adjustments you make via the manual settings appear instantly on the display, preventing unpleasant surprises.
As we've seen on phones from HTC, Apple, and others, the Nokia Icon groups photos according to the time and place, and comes with a beta version of a Nokia app called Storyteller, which shows you on maps where those events occurred.
Find the right smart phone using our cell phone buying guide and Ratings.
Display
Windows phones have an inherent advantage over all other phones: The Windows Phone OS has the best-looking fonts of any smart phone platform, making the words on any screen—from an e-mail to calendar appointment—effortless to read. And since the Lumia Icon's display shows three columns of Live Tiles instead of two, you won't have to scroll as much to find your favorite app.
As for display quality, the 5-inch, 1920x1080 OLED (organic light emitting diode) display crams in 441 pixels per inch and seems about as sharp and bright as the 6-inch LED display of the Lumia 1520—probably the best display we've seen on any phone. I could still read Web pages even when I held the phone in front of a snow bank on a bright, sunny day. But the Lumia 1520 display is an LCD, not an OLED. Our tests will determine if that makes much of a difference in performance.
Driving app
Nokia's GPS navigation app, Here Drive, holds its own with the included offerings on iPhones and Android phones. Along with complete street names and estimated travel times, the app delivers speed-limit warnings and traffic alerts. And like the Google Maps navigation app, Here Drive lets you save frequent commutes, such as the trip from home to work. One new feature automatically geotags your parking spot when you arrive at your destination, so you can find your car—along with 25 other nearby points of interest--if you open up Nokia's Here Maps' LiveSight feature. But unlike Google Now on Android phones, you won't be reminded to leave early for a scheduled appointment because of traffic.
Other smart driver apps include Driving Mode, which can be configured to automatically send replies to people who call or text you when you are driving. You can activate Driving Mode manually, or you can set it up to be automatically activated when it detects a specific Bluetooth device, such as the audio systems in newer cars.
Battery
The Nokia Icon's 2,420 mAh battery was a bit of a disappointment. Nokia claims it should yield a full day of use, but I had to return to the USB charger for a refill after only a few hours of moderate use. My tests were rather informal, though, and this is only a press sample. We'll see how long the battery lasts when our engineers perform a full test on the retail version of this phone.
Bottom line
Wimpy battery aside, the Lumia Icon deftly integrates Nokia's intriguing camera features and advanced map/navigation apps with Microsoft's attractive and intuitive interface. If you're considering a Windows phone, this one should be at the top of your shopping list.
—Mike Gikas
Copyright © 2005-2014 Consumers Union of U.S., Inc. No reproduction, in whole or in part, without written permission. Consumer Reports has no relationship with any advertisers on this site.