No Joke: New Signs at Park Warn of Angry Owls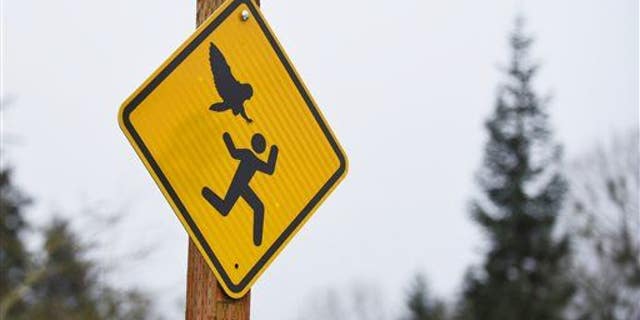 MSNBC host Rachel Maddow inspired Oregon's capital to post new warning signs in a park where four runners reported attacks from an angry owl likely defending its nest against perceived threats.
One jogger, a surgeon, said the owl hit him twice in Bush's Pasture Park in Salem, and so hard he thought he was having a stroke or an aneurysm.
Another said the bird swiped his longtime running cap and nicked his scalp. Maddow suggested on air last week that the city should post a vivid yellow warning sign using the iconic pedestrian stick figure bent forward at a run.
Above, claws extended, is a raptor. Salem officials liked the idea. Mark Becktel, parks and transportation services manager, said the city secured rights to reproduce the sign and is posting 20 of them.
"It's just making people aware that there's an owl there that for whatever reason swoops down and goes after people's hats," he said.
This article originally appeared on Newser: No Joke: New Signs at Park Warn of Angry Owls
More From Newser