New tiny memory card stores as much as a laptop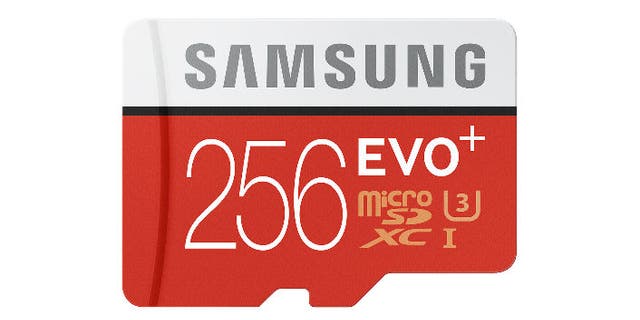 NEWYou can now listen to Fox News articles!
The days of the lowly 2GB MicroSD card are officially over.
On Tuesday, Samsung announced a 256GB MicroSD card, matching – or exceeding – the storage capacity of a typical new laptop. This is remarkable because MicroSD cards are some of the smallest memory devices on the planet— even smaller than already-tiny MiniSD cards.
Samsung's EVO Plus 256GB card is targeted at high-end devices that need lots of additional storage. That includes smartphones, tablets, and a variety of cameras, including 360-degree video cameras that require lots of capacity.
Related: Apple's new 12-inch MacBook: A great device gets better
Not coincidentally, the Samsung Gear 360 video camera will go on sale in the coming weeks and just happens to feature a MicroSD card slot. That camera gobbles up storage because it allows shooting of 360-degree video that's viewable on a virtual reality headset.
Samsung also notes that consumers can record up to 12 hours of 4K UHD video – the highest resolution video that smartphones can currently handle – or 33 hours of Full HD video.
The company claims the cards are fast. Storage performance is typically defined by read and write speed. The EVO Plus 256GB delivers read and write speeds of up to 95 megabytes per second and 90 megabytes per second, respectively. To date, the fastest MicroSD cards have typically delivered read-write speeds well below that.
Related: Apple's iPad Pro is beating Microsoft's Surface Pro 4, experts say
"This level of performance [is] for storing heavy-loaded, high-resolution photography and 4K video recording, as well as graphic intensive multimedia like virtual reality (VR) and gaming," Samsung said in a statement.
The card is waterproof, temperature proof, X-ray proof, and magnetic proof, according to Samsung.
On the downside, MicroSD card slots are not that common on smartphones, as phone manufacturers prefer to offer models with different built-in storage capacities at different pricing tiers. Apple is a good example. The difference between a 16GB iPhone 6s and a 128GB version is $200. That's good for Apple, but not so great for the consumer.
Related: Apple updates MacBook with new internals
Samsung will offer the EVO Plus 256GB MicroSD card, replete with a limited 10-year warranty, in more than 50 countries, including the U.S. Europe, and China. The card will be available starting in June 2016 for $249.99.