New technology expands screens and horizons at the movies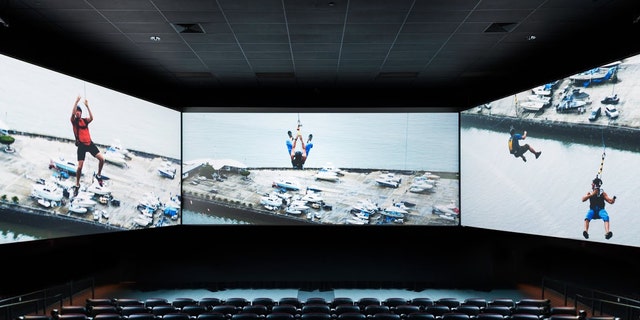 Cinemas have long been building bigger screens (IMAX) and opening other dimensions (3D) to entice people out to the theater and away from the vastly improved home viewing experience.
And while consumers at home may pull out a second screen device for surfing or supplemental information, Belgium's Barco hopes to counter that trend by going even bigger: banking on multiple, interconnected big-screens, creating an even more immersive experience to fill seats for exhibitors.
At a recent demonstration of the technology in a Los Angeles Cinemark Cineplex, Ted Schilowitz, Barco's Chief Creative Officer, said, "The primary goal is to enhance the experience of going to the movies, to give it a separation point from what's at home versus going to the movies because the home experience is pretty darn good. You can get really big screens at home but today, you can't get this."
Related: Startup unveils 16-lens camera
Schilowitz then swept his arms towards the giant, identically sized trio of screens below, the side two panels angled from the sides of the traditional front screen at 105 degree to 110 degrees, creating a nearly panoramic view.
Paul Dergarabedian, senior media analyst with Rentrak, agrees that this technology is part of a trend to lure patrons to the theater. "Barco Escape proves that a furtherance of the in-theater experience to even greater immersive levels is part of an overall strategy to differentiate the theatrical experience from the in-home experience," he told FoxNews.com via email.
It's too early to know if it will catch on, but Schilowitz says the Barco Escape technology has worked out some kinks in the corners from last year's debut. The technology now makes a more seamless connection where the screens meet on adjustable setups like the one at a Los Angeles Cinemark theater. Barco is considering a curved or rounded screen for future permanent installations.
When films are screened in traditional formats, the Barco Escape side panels are movable and curtained off to the side. A deal with Twentieth Century Fox has the 20 screens worldwide currently showing the recently released "Maze Runner: The Scorch Trials."
It features 22 minutes utilizing the ultra-wide, three-screen technology, up from just 10 minutes specially edited for Barco Escape's debut with the first "Maze Runner" from Fox a year ago.
The films are part of a five-year deal Fox has with Barco. Director Jerry Bruckheimer's company has also signed on to use Barco Escape in two upcoming projects.
The immersive technology is also being geared for eSports audiences, special televised sports events, and perhaps other live theater performances such as major classical orchestras and ballet companies.
Noted YouTube video creator Devin Supertramp signed on to do an adventure production for release in Barco Escape. It shows the promise of the technology, moving from panoramic views of Thailand to bungee jumps in New Zealand that utilize the side panels to show a different vantage point than the primary screen.
Video shot on GoPros shows selfies of the jumpers plunging into the river on one side, while the main screen shows the bridge, and the other side can show cutaways of the crowd or a third camera angle capturing the leap.
"We always capture our stunts/scenes from multiple angles, more than most film makers," Supertramp told FoxNews.com, via email, "With Barco we could have multiple angles of the same stunt to create an experience you could never have on YouTube or your typical movie theater."
Supertramp's short video is opening for audiences watching "The Scorch Trials" in Barco Escape.
The demo also included a sneak peak of a live concert featuring Tony Bennett and Lady Gaga, in which all three screens showed different video to set the scene and employed cutaways of the audience during the performance, as well as shots of the band on the side panels. The main focus on the center screen spotlighted the two singers.
Fox, Bruckheimer, Supertramp and others will keep the pipeline flowing while Barco courts other studios and exhibitors, but ultimately it will be the creativity of the filmmakers who make use of the extra space or not that will decide whether consumers pony up a few bucks more to literally have their horizons broadened on the big screen.
Schilowitz says it generally doesn't cost much, if anything, extra to shoot for Barco Escape. And as a founder of digital camera specialist Red Camera, he notes, "modern cameras have enough resolution to fill up the screens. We know the technology doesn't have to change, you don't have to use multiple cameras all the time to shoot simultaneously three screens."
In fact, most films are multi-camera shoots anyway so the real trick is in editing. And in the cinema, three projectors are used, one for each screen.
Schilowitz, who does double-duty as a futurist for Twentieth Century Fox, says many theaters charge $3 to $8 extra to films in Escape, although some exhibitors are offering discounts or cutting the surcharge for "The Scorch Trials" to increase traffic.
The big question of course, is whether consumers will pay an extra fee to watch on three screens versus one.
There are currently 20 Escape setups installed in theaters worldwide, 16 of them in the U.S. And the technology is not inexpensive, costing roughly $100,000 per configuration, although Schilowitz says Barco is subsidizing some of the cost.
Odyssey Entertainment Vice President of Operations Gary Westmark offered nothing but praise for the early returns on its investment. "The response from patrons has been over 95 percent positive and we have received patron comments such as, 'Mind Blowing!' 'Amazing!' and 'Every seat seems to give a different viewing experience!'," he told FoxNews.com, via email. Odyssey Entertainment has installed the Barco Escape in its Cinemagic Hollywood 12 in Rochester, Minn., a city best-known as home to the Mayo Clinic.
And while Schilowitz says Barco is not necessarily looking to replace 3D, he argues the excitement is dwindling for that technology. "You could do this with 3D, there's no technical reason you couldn't, but filmmakers are looking for an immersive alternative to 3D where you're not wearing glasses," he explained. "Barco Escape is often referred to as the bricks and mortar version of Virtual Reality. Audiences desire more and more immersive content."