King Stallion, the U.S. Marine Corps' ultra-powerful new helo, can carry an astonishing three times more weight than its predecessor.
The Marine Corps will be able to move more Marines, more rapidly from a ship to join the fight in a war zone. With the new helicopter, Marines will also be also to evacuate more casualties to medical aid more quickly in CASEVAC. It could play a key role in quickly transporting more resupply to Marines at remote, hard-to-reach, operating bases.
Made by Lockheed Martin Sikorsky Aircraft Corporation, the CH-53K King Stallion will be the Marine Corps' next-gen heavy lift helicopter, replacing the CH-53E Super Stallion.
The goal is to provide the Marines with the best heavy lift helo in the world. Ultimately, the Marine Corps plans to have eight active duty squadrons, one training squadron, and one reserve squadron.
US MARINES COULD DEPLOY ROBOTS AND 'HYPERSUBS' TO STORM FUTURE BEACHES
It is not just super-strong, the Marines' cutting-edge new helicopter is incredibly advanced in other ways too. In fact, it is so "smart" it can nearly fly itself.
Marines will also be able to leverage the advances in the King Stallion for search and rescue in combat and for other missions like supporting special operations.
It will also be very useful for humanitarian missions. For example, it could transport three times as much food to an area ravaged by a natural disaster that has lost access to local food supplies.
What can it do?
The new helicopter can carry 27,000 pounds as an external load and it can do this over 110 nautical miles. It will certainly bring powerful lift to war zones.
MARINES GET GROUNDBREAKING, UNSTOPPABLE NEW RIFLE MAGAZINE
In fact, the King Stallion has a very versatile external hook system. Marines will be able to opt for a single, dual or triple hook so it can carry up to three independent loads at a time.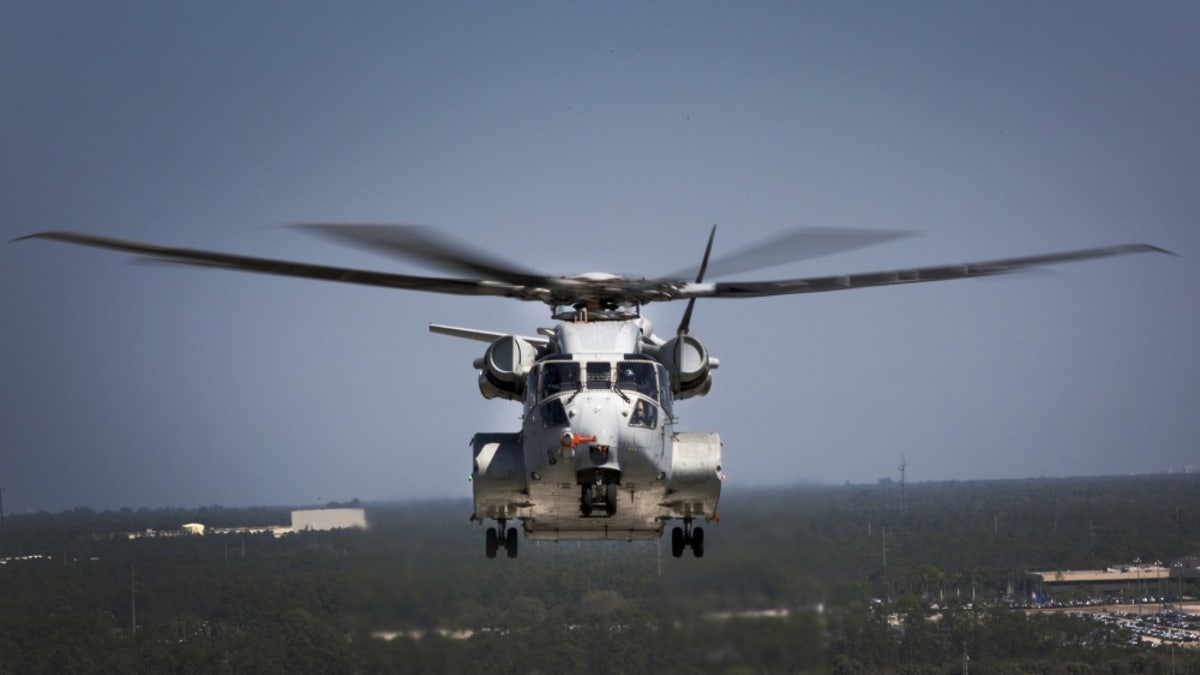 The new helo will have a cruise speed of 141 knots with a range of about 530 miles.
The CH-53K King Stallion has a larger cabin – it is wider by a foot than the CH-53E Super Stallion. This is important because it means the helicopter will be able to carry High-Mobility Multipurpose Wheeled Vehicles (HMMWVs). Cargo will be much easier to load and unload – and without having to remove troop seating.
There's a new very modern glass cockpit and a stronger composite airframe that will reduce weight and vibration. It will also be powered by powerful new engines.
A NEW COMBAT VEHICLE THAT SWIMS FOR THE MARINE CORPS
There's automated blade fold and it has fourth-generation composite main rotor blades with anhedral tips and advanced airfoils.
More safety for Marines
King Stallion has many safety features built in to enhance the safety of Marine Corps personnel.
In addition to world-class self-defense weapons, the new helo incorporates advanced lightweight armor enhanced ballistic protection. The troop seats and retracting landing gear are also engineered to be crashworthy.
There are advances to help free up the crew so they can focus on the mission. New mission management and full authority fly-by-wire flight controls, for example, are two of these exciting advances.
4 AMAZING VEHICLES FOR SPECIAL OPERATIONS FORCES
Degraded Visual Environments (DVE) continue to be a dangerous threat in war zones. This encompasses scenarios such as sand and dirt filling the air as a helicopter draws close the ground, making it difficult to see. But King Stallion incorporates several new features like precision hold to help pilots cope with this serious challenge.
Key step closer
The CH-53K King Stallion recently completed the first flight to Naval Air Station Patuxent River, Maryland travelling six hours over 810 miles without a hitch- this successful transition is the latest key step closer to getting the helicopters into the air with the Marines.
A team comprised of Sikorsky, U.S. Navy Naval Air Systems Command (NAVAIR), and U.S. Marine Corps (USMC) personnel is conducting the flight test program of the new King Stallion. The four initial prototypes have already completed more than 450 hours of flight testing at Sikorsky's Development Flight Center in West Palm Beach.
When will King Stallions join the Marines?
The Department of Defense currently plans to provide the Marine Corps with 200 of these powerful new helicopters. The first six are scheduled to reach the Marines next year.