Navy's powerful Poseidon spy plane deploys amid South China sea row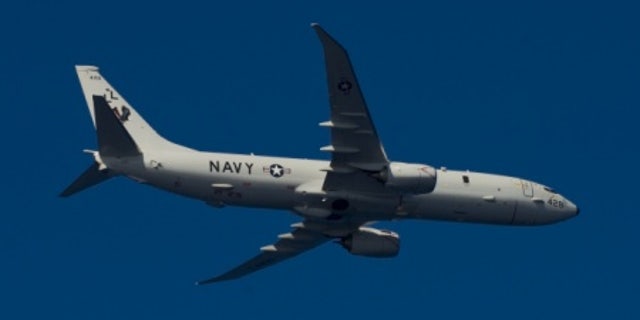 The U.S has received permission to place a P-8 Poseidon spy plane in Singapore amid tensions with China over the South China Sea. Capable of a range of missions, the commercial jet-sized spy plane is a powerful weapon in the U.S. Navy's arsenal.
The Poseidon spy plane is spending a week out at the South China Sea.
Made by Boeing Defense, Poseidon is designed to take on the subs and surface vessels. It can also conduct missions gathering intelligence, surveillance and reconnaissance.
Related: 11 stunning F-22 fighter jet images
Poseidon is the god of the sea and protector of the water domain in Greek mythology. The aircraft P-8A Poseidon was created to perform a similar role for the U.S. Navy.
Eyes of the Navy
Maritime patrol aircraft act as the eyes of the Navy fleet with Poseidon scouring the world's oceans for any potential threat. This aircraft will also be able to respond very quickly if a threat is spotted.
Poseidon can also carry more and operate at higher altitudes than many similar aircraft – further boosting maritime patrol capabilities.
Related: 11 amazing A-10 Warthog images
Based on Boeing's 737-800 commercial airplane, it has the fuselage of a 737-800 and the wings of a 737-900.
The large aircraft is just shy of130 feet long with a wingspan of just over 123 feet. It can deploy 4,500 miles from its base without refueling. The P-8 Poseidon has a flight ceiling of 41,000 feet.
Capable of travelling 564 mph, its two engines are made by CFM International and provide about 27,000 pounds of takeoff thrust each.
Related: Why France's Rafale fighter jet is a key weapon against ISIS
The aircraft is designed to do more with less man-power. The P-8A Poseidon holds a crew of nine and can operate as an armed platform to take on targets.
Weaponry
Poseidon is armed with torpedoes and cruise missiles. Raytheon provides Poseidon's MK 54 lightweight torpedo and the AN/APY-10 radar that gives provides all-weather, day and night multi-mission surveillance capabilities.
Northrop Grumman provides the aircraft's directional infrared countermeasures, its electronic support systems and data links. GE Aviation's electronics provides the plane's control system for integrated weapons. Other Poseidon partners include Spirit AeroSystems and BAE Systems.
Related: Historic tanks in pictures
Poseidon can also communicate with drones, leveraging the enhanced technology, sensors and weapons systems they can bring to the fight. While engaging an adversary, the Poseidon can also relay critical data across the military network.
The next-gen fleet
In August, Boeing received a $1.49 billion contract for 13 more Poseidons. The order includes nine aircraft for the U.S. Navy and four Poseidons for the Royal Australian Air Force (RAAF), a long-time P-8A development partner of the U.S. Navy. Ultimately, the Navy plans to purchase 117 of the aircraft, which will replace its P-3C fleet.
The P-3C Orion is a four-engine, anti-submarine and surveillance aircraft that has acted as a maritime patrol plane for about half a century.
U.S. Poseidons already operate from the Philippines and Japan. The aircraft have also departed from Malaysia on surveillance missions.
The U.S. recently reached an agreement with Singapore to deploy a Poseidon to the country. U.S. Defense Secretary Ash Carter and Singapore Defense Minister Ng Eng Hen issued a joint statement Monday. In August 2014, the U.S. asserted that a Chinese jet flew dangerously close to one of the Navy's Poseidons.
The Poseidon Singapore deployment runs from Dec.7 through Dec.14. The U.S. military also plans to base another military reconnaissance plane at Singapore's Paya Lebar air base.
Tensions have escalated in the region since China has ramped up its territorial claims in the South China Sea. China asserted the Poseidon Singapore deployment was intended to militarize the region in a statement issued Tuesday.