Navy will use 3-D printed part in Osprey aircraft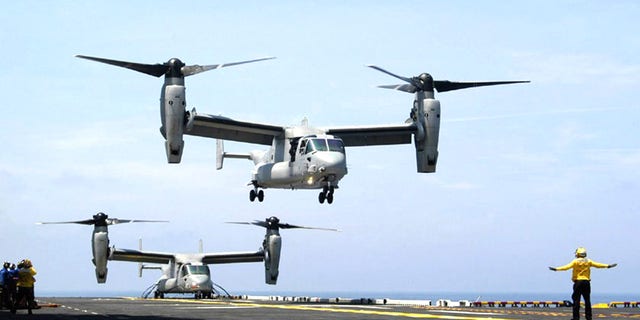 This June, a V-22 Osprey is scheduled to fly with a part that has been 3-D printed, Elizabeth McMichael, the director of innovation for Naval Air Systems Command, said at a conference on Tuesday, according to Jane's 360.
The V-22 Osprey is a fixed-wing aircraft that can take off vertically but then fly like a traditional airplane. The 3-D printed part that it will use is a "titanium link and fitting," Jane's reported; in total, they're making six parts.
Related: Study: 3D printing can be hazardous to your health
While the project has taken half the time to complete as expected, McMichael said they still needed to work on the regulations and other procedural issues before the practice can become mainstream. They'll have more data after the 3-D printed part flies on the Osprey next month.
In 2014, Vice Admiral Philip Cullum noted in a Navy blog item that 3-D printing at shipyards was cheaper and faster than traditional methods, and that a 3-D printer on board the USS Essex had printed items like deck drain covers.
Related: Navies could harness 3D-printing to build military vessels, report says
The method has even been suggested as a way to construct vessels.
3-D printing has enjoyed a boom in recent years— NASA has sent a 3-D printer to the International Space Station, and earlier this year, Lockheed Martin reported that it used a 3-D printed part— a connector backshell— during a ballistic missile test.