NATO Builds Plan as Violence Increases in Ukraine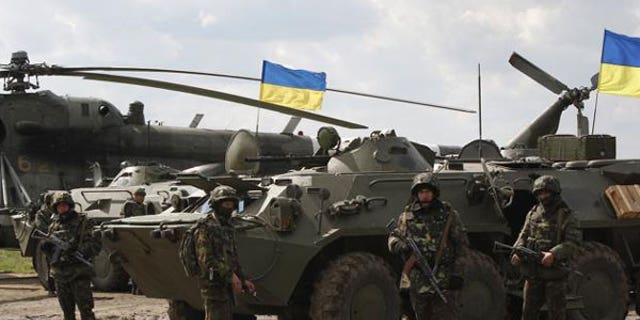 After several false starts, Ukrainian troops began moving Tuesday against pro-Moscow separatists in eastern Ukraine as NATO considered shoring up defenses against Russia in eastern Europe.
Ukrainian mechanized units took back an airfield between the towns of Kramatorsk and Slavyansk from armed Russian-speaking militants, according to Western media reports.
Russian media outlets said at least four of the pro-Russian defenders were killed in the incident, but those reports could not be independently confirmed.
Acting Ukrainian President Oleksandr Turchynov said the decision to confront militants who have taken over government buildings in several eastern Ukraine cities was part of a "phased" approach to regain control of the region.
"The aim of these actions is to protect the citizens of Ukraine, to stop terror, to stop criminality, to stop attempts to tear Ukraine to pieces," said Turchynov, who previously had let slip several deadlines for removing the militants.
The clashes in eastern Ukraine while an estimated 50,000 Russian combat troops were poised on the border came as Air Force Gen. Philip Breedlove, NATO's Supreme Commander, drew up plans that could include boosting U.S. forces in eastern Europe and increasing joint training exercises on Russia's borders.
"The SACEUR is developing options" based on the Russian threat, said Army Col. Steve Warren, a Pentagon spokesman. "We believe a lot of this violence (in Ukraine) has been orchestrated by the Russians.
NATO Secretary General Anders Fogh Rasmussen gave a possible outline of Breedlove's options Tuesday as he welcomed European Union Defense Ministers to talks in Luxembourg.
"We need to train and exercise more together – for instance the NATO Response Force and the EU Battlegroups, so that we stand ready for whatever the future may bring," Rasmussen said.
These measures are designed both to reassure NATO's eastern members and to send a "loud message to Russia's President Vladimir Putin that military adventures in the former Soviet space would create an even more dangerous crisis for Europe than the seizure of Crimea," according to a recent Royal United Services Institute briefing paper.
There continue to be signs that the Russian military machine is on a war footing, RUSI officials maintain.
Since mid-March, high levels of activity among the Russian Military Air Transport Command's transport aircraft have been detected in areas adjacent to the Russo–Ukrainian border, RUSI experts said.
An-22 Antey turboprop aircraft, which are designed to transport heavy armoured vehicles, have been conducting in transportation operations.
"This level of activity is unprecedented in exercises and strongly suggests that these planes are ferrying supplies and equipment to troop concentrations – a clear sign of the seriousness of Russian intentions," according the RUSI briefing paper.
Looking at front-line maneuver units alone – such as infantry, tank, artillery and special operations forces – there are an estimated 48,500 Russian troops within 50 kilometers of the border, RUSI experts said. Combat-support units such as electronic warfare, communications and engineers and transportation take that number up to more than 90,000.
Rasmussen also called on Russia "to make clear that it doesn't support the violent actions of the terrorists. Russia should stop being part of the problem and start being part of the solution," Rasmussen said.
Breedlove's options were expected to be a key topic of discussion Thursday in Pentagon meetings between Defense Secretary Chuck Hagel and Polish Defense Minister Tomasz Siemoniak.
"What is really important is the strengthening of NATO's eastern flank," Siemoniak said.
Russian officials put out several warnings that the violence in eastern Ukraine could escalate and possibly force Moscow to act.
On his Facebook page, Russian Prime Minister Dmitry Medvedev wrote: "Blood was spilled once again in Ukraine," a reference to the Ukrainian operation against the airfield. "There's a sense in the country that a civil war could break out," Medvedev said.
Russian President Vladimir Putin was also "getting many requests" from eastern Ukraine "to intervene in one way or another," said Putin spokesman Dmitry Peskov.
Putin is certainly capable of doing so, RUSI experts said.
Here's a snapshot of Russian military forces around Ukraine, according to RUSI.
Klimovo Sub-Group
Two battalion tactical groups of the 51st Guards Parachute Regiment/106th Guards Airborne Division.
One artillery battalion of the 1182nd Guards Airborne Artillery Regiment/106th Guards Airborne Division 6th Tank Brigade
One battalion of the 2nd Spetsnaz GRU Brigade
L'gov Sub-Group
Two battalion tactical groups of the 1st Guards Motor Rifle Regiment/2nd Guards
Tamanskaya Motor Rifle Division
One self-propelled artillery battalion of the 147th Guards Self-Propelled Artillery Regiment/2nd Guards Tamanskaya Motor Rifle Division
13th Guards Tank Regiment/4th Guards Kantemirovskaya Tank Division
One battalion of the 2nd Spetsnaz Brigade
Reserves
15th Guards Motor Rifle Regiment/2nd Guards Tamanskaya Motor
Rifle Division
One self-propelled artillery battalion of the 147th Guards Self-Propelled Artillery Regiment/2nd Guards Tamanskaya Division
12th Guards Tank Regiment/4th Guards Kantemirovskaya Tank Division
One self-propelled artillery battalion of the 275th Guards Self-Propelled Artillery Regiment/4th Guards Kantemirovskaya TankDivision
Belgorod Group
27th Guards Motor Brigade
One self-propelled artillery battalion of the 147th Guards Self-
Propelled Artillery Regiment/2nd Guards Tamanskaya Division
One battalion tactical groups of the 15th Motor Rifle Brigade
Three battalion tactical groups of the 104th Guards Air Assault
Regiment/76th Guards Air Assault Division
One battalion tactical group of the 51st Guards Airborne Regiment/106th Guards Airborne Division
One battalion tactical group of the 137th Guards Airborne Regiment/106th Guards Airborne Division
One or two battalion tactical groups of the 234th Guards Air Assault Regiment/76th Guards Air Assault Division
Two battalions of the 16th Spetsnaz GRU Brigade
Reserves
Two battalion tactical groups of the 23rd Guards Motor Rifle Brigade
One self-propelled artillery battalion of the 275th Guards Self-Propelled Artillery Regiment/4th Guards Kantemirovskaya Tank Division
Donbass Group
Boguchar Sub-Group
Two battalion tactical groups the 20th Guards Motor Rifle brigade
One battalion of the 10th Spetsnaz GRU brigade
Rostov-Don Sub-Group
Two battalion tactical groups of the 137th Guards Paratroop Regiment/106th Guards Airborne Division
One self-propelled artillery battalion of the 1182nd Guards Airborne Artillery Regiment/106th Guards Airborne Division
One battalion of the 22nd Guards Spetsnaz GRU Brigade
Two battalions of the 943rd Rocket-Artillery (MLRS) Regiment
Tavriya Group
Taganrog Sub-Group
Two battalion tactical groups of the 205th Motor Rifle Brigade
One or two battalion tactical groups of the 98th Guards Airborne Division
One battalion of the 346th Spetsnaz GRU Brigade
One battalion of the 25th Spetsnaz GRU Regiment
Crimea Sub-Group
810th Marines Brigade
31st Guards Air Assault Brigade
One battalion tactical group of the 18th Guards Motor Rifle Brigade
One battalion tactical group of the 15th Motor Brigade
One battalion of the 943rd Rocket-Artillery (MLRS) Regiment
One battalion of the 22nd Guards Spetsnaz GRU Brigade
One battalion of the 3rd Guards Spetsnaz GRU Brigade
One battalion of the 45th Spetsnaz Regiment of Airborne Troops
Reserves
33rd Mountain Infantry Brigade
34th Mountain Infantry Brigade
-- Matthew Cox can be reached at matthew.cox@monster.com
-- Richard Sisk can be reached at richard.sisk@monster.com