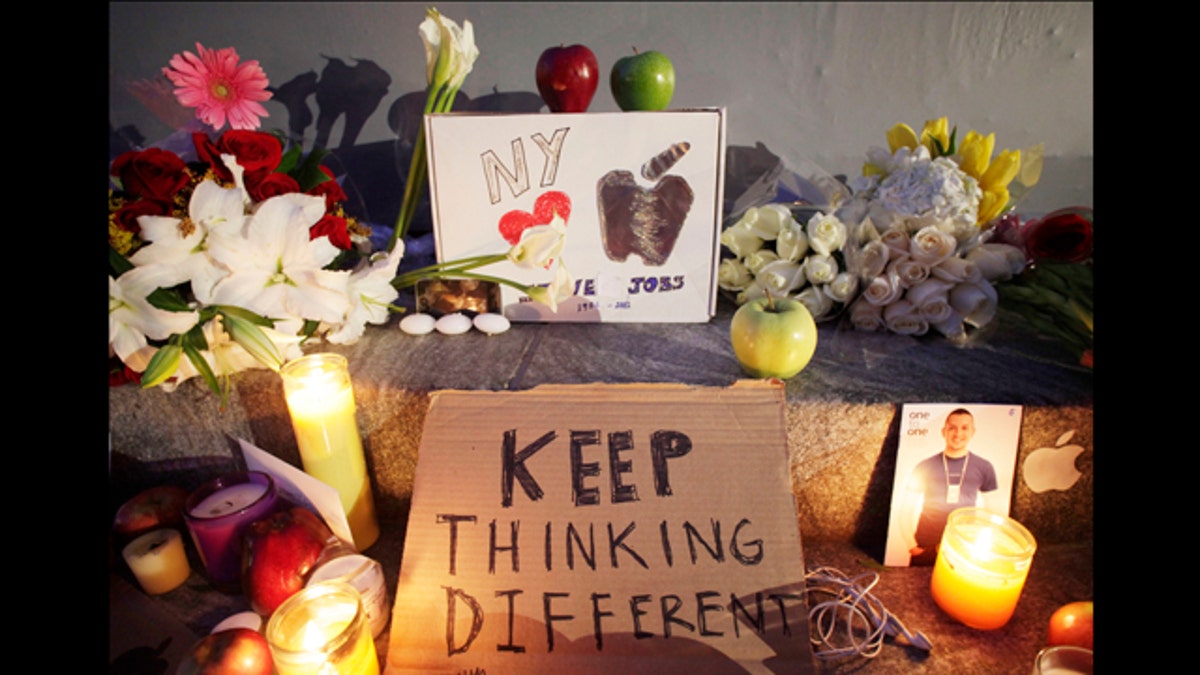 Apple founder and former CEO Steve Jobs revolutionized technology with innovative products that attracted millions of users around the world. His death Wednesday prompted an outpouring of support.
Here are some of those statements:
-- "Apple has lost a visionary and creative genius, and the world has lost an amazing human being. Those of us who have been fortunate enough to know and work with Steve have lost a dear friend and an inspiring mentor. Steve leaves behind a company that only he could have built, and his spirit will forever be the foundation of Apple." -- Apple CEO Tim Cook, who succeeded Jobs in the role in August.
-- "Steve's brilliance, passion and energy were the source of countless innovations that enrich and improve all of our lives. The world is immeasurably better because of Steve." -- Apple's board of directors.
-- "Steve died peacefully today surrounded by his family. In his public life, Steve was known as a visionary; in his private life, he cherished his family. We are thankful to the many people who have shared their wishes and prayers during the last year of Steve's illness." -- Steve Jobs' family.
-- "For those of us lucky enough to get to work with Steve, it's been an insanely great honor. I will miss Steve immensely." -- Microsoft Corp. co-founder Bill Gates.
-- "Today, we lost one of the most influential thinkers, creators and entrepreneurs of all time. Steve Jobs was simply the greatest CEO of his generation. While I am deeply saddened by his passing, I'm reminded of the stunning impact he had in revolutionizing the way people consume media and entertainment. My heart goes out to his family and to everyone who had the opportunity to work beside him in bringing his many visions to life." -- News Corp. CEO Rupert Murdoch.
-- "People sometimes have goals in life. Steve Jobs exceeded every goal he ever set out for himself." Apple co-founder Steve Wozniak, per the Los Angeles Times.
-- "Steve was such an `original,' with a thoroughly creative, imaginative mind that defined an era. Despite all he accomplished, it feels like he was just getting started. With his passing the world has lost a rare original, Disney has lost a member of our family, and I have lost a great friend." -- The Walt Disney Co. CEO Bob Iger.
-- "I want to express my deepest condolences at the passing of Steve Jobs, one of the founders of our industry and a true visionary. My heart goes out to his family, everyone at Apple and everyone who has been touched by his work." -- Microsoft CEO Steve Ballmer.
-- "Steve, thank you for being a mentor and a friend. Thanks for showing that what you build can change the world. I will miss you." -- Facebook Founder Mark Zuckerberg
-- "Steve was a larger-than-life personality -- passionate about music and one of its biggest fans and advocates. He was a true visionary who forever transformed how fans access and enjoy music. With the introduction of the iTunes software and other platforms, Steve and Apple made it once again easy and accepted to pay for music. His legacy will live on, long past his all-too-short time on Earth." -- Cary Sherman, CEO, Recording Industry Association of America.
-- "Today the world lost a visionary leader, the technology industry lost an iconic legend and I lost a friend and fellow founder. The legacy of Steve Jobs will be remembered for generations to come." -- Dell Inc. founder and CEO Michael Dell.
-- "The genius of Steve Jobs, a man I've known for 40 years, not only brought to life the visual magic and brilliant storytelling of Pixar, but brought the world one of the most innovative and successful platforms to make movies and TV available online at the click of a mouse. He was a pioneer, and helped all of us better understand how technologists and creators can work together to enrich and enliven our shared world." -- Sen. Chris Dodd, CEO, Motion Picture Association of America.
-- "He humanized technology and made it work in wondrous ways that genuinely improved our lives." -- The Information Technology and Innovation Foundation.
-- "Steve Jobs was a great California innovator who demonstrated what a totally independent and creative mind can accomplish. Few people have made such a powerful and elegant imprint on our lives." -- California Gov. Jerry Brown.
The Associated Press contributed to this report.