NASA explores placing ads on rockets, allowing astronaut endorsements: report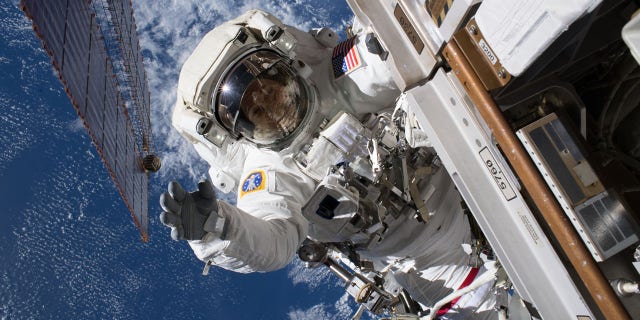 A NASA spacecraft to Mars could someday feature a Mars chocolate bar logo plastered across one of its wings.
NASA has called for a new committee to explore branding and endorsement opportunities, reports said Monday.
NASA Administrator Jim Bridenstine announced he was setting up a committee to examine "provocative questions" of transforming rockets into corporate billboards, much like how ads wrap all around NASCAR race cars, The Washington Post reported.
"Is it possible for NASA to offset some of its costs by selling the naming rights to its spacecraft, or the naming rights to its rockets?" Bridenstine said in a NASA Advisory Council meeting on Aug. 29. "I'm telling you there is interest in that right now. The question is: Is it possible? The answer is: I don't know, but we want somebody to give us advice on whether it is."
He said he also wanted astronauts to participate in marketing or endorsement opportunities, The Post reported.
"I'd like to see kids growing up, instead of maybe wanting to be like a professional sports star, I'd like to see them grow up wanting to be a NASA astronaut, or a NASA scientist," he said. "I'd like to see, maybe one day, NASA astronauts on the cover of a cereal box, embedded into the American culture."
The White House has said it would like to end direct funding for the International Space Station and turn over its operations to a private entity, The Post reported.
Bridenstine said he wants the newly formed committee to explore flying tourists to the International Space Station alongside government astronauts.
Critics have also begun to push back against the idea. NASA fans also see the agency as a "refuge from corporate interests," The Verge reported.
"For better or for worse, one of the things that spaceflight has fostered is the idea of space being something of a pristine atmosphere," Robert Pearlman, a space historian, told The Verge.
"We leave our problems behind, and for some people, branding has gone overboard here on Earth. That's one of the objections that might be raised," Pearlman, founder of the website CollectSpace, said.
Endorsements would also likely offset only a fraction of NASA's biggest projects that run in the hundreds of millions to billions of dollars, according to the report.