More than half a million rounds kick off SHOT Show in Las Vegas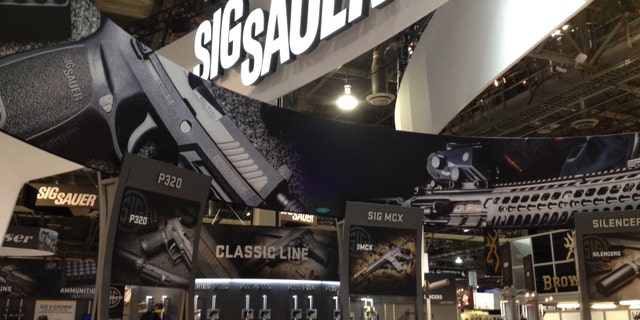 The world's largest gun show kicked off in Las Vegas Tuesday, showcasing the very latest in firearms innovation and more.
For those permitted entry, SHOT Show is a first look at the newest products before they are revealed to the public and made available through retailers.
Over the course of four days, Jan. 19 through Jan. 22, more than 65,000 industry professionals will walk the miles and miles of gear on offer. The Shooting, Hunting and Outdoor Trade (SHOT) Show, owned and sponsored by the National Shooting Sports Foundation (NSSF), is in its 38th edition.
For those in the industry, it is the place to see and be seen. Buyers and sellers from all 50 states and more than 100 countries are converging in Vegas for the annual event.
Related: $1M guns made of meteorite
SHOT is the fifth-largest trade show in Las Vegas and fills two sprawling floors at the Sands Expo Center.
In fitting style, the guns making a debut as well as current models were put through their paces with approximately more than half a million rounds at the SHOT Industry Day at the Range Monday.
What can you see there?
SHOT Show is the mother lode. The gear and exhibits brought to SHOT weighed more than 6.6 million pounds last year.
There are thousands and thousands of products for those passionate about the Second Amendment, hunting, shooting and the outdoors. There are also thousands of options for military and law enforcement professionals.
Related: Air Force, Marines, bolster air power with major Super Hercules deal
Walking through the 630,000 square feet of the event, companies have brought a wide array of new and current products – there are guns for all different purposes, for all different terrains – whether it is a hunting area or a big city – and for all different budgets.
This year more than 1,600 exhibitors have brought a monumental number of options.
In addition to firearms and ammo, folks are perusing optics, gun safes, safety locks and cases, shooting range equipment, targets, game calls, decoys, tree stands, scents, lures, hunting accessories and much, much more.
Who can attend?
Not just any enthusiast can gain entry to SHOT – this event is not open to the public. The NSSF carefully restricts attendance to professionals in shooting, hunting, and outdoor trade. Commercial buyers and sellers of military, law enforcement, and tactical products and services also attend to get business done.
Related: Top military innovations of 2015
NSSF rigorously enforces this policy, requiring government-issued photo identification plus documentation demonstrating direct, professional affiliation to the trade in order to get admitted.
SHOT is a destination for getting business done, but also serves as an opportunity to network, swap tales and catch up with others in the industry. Accomplished military and law enforcement professionals and veterans from around the world also pitch up and leverage the occasion to provide critical end-user feedback.
At the ranges
The annual Industry Day, now in its eleventh iteration, was held at the Boulder Pistol & Rifle Club Monday.
More than 170 manufacturers took part, and over 500,000 rounds of ammunition were expended during the thorough weapons testing.
Related: Can the US military build Star Wars-style laser cannons for its troops?
The event gives media with expertise in shooting, hunting and the outdoors, as well as buyers, the chance to get their hands on the new weapons for the upcoming year. In addition to firearms and ammo, there were ATV and truck demonstrations, knife throwing and archery displays.
But it could also be described as a media shoot out. A bunch of journalists and bloggers blasting away at targets is not a sight you see every day.
Out at the Nellis Gun Club at Nellis Air Force Base some of the nation's finest tactical professionals also hit the range over at ATAC Range Day, which is sponsored by security specialist ATAC Global Advanced Tactics and Countermeasures.
A sort of Willie Wonka's golden ticket in the tactical industry, those lucky enough to receive the highly coveted invites also had a go test-driving the latest advances in guns, ammo and gear.
When bullets are on someone else's tab, it always makes testing the products a whole lot easier on the wallet and more fun.