MoonWalker shoes: Kicks that defy gravity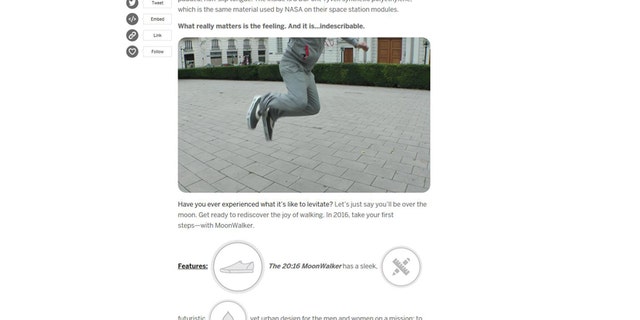 British rock band The Police once sang about "walking on the moon," and thanks to the savvy minds of Moonshine Crea, it won't be long before those giant steps will be taken right here on earth.
Meet the 20:16 MoonWalker Shoes, a laceless loafer that will "fit like a glove" and quite literally levitate the wearer. The high-tech kicks boast synthetic fabric lunar in gray and white gradient, a padded non-slip tongue and DuPont Tyvek synthetic polyethylene.
Related: The Moon or Mars? NASA must pick 1 goal for astronauts, experts tell Congress
The secret to the shoe's mojo lies in the two-dozen repelling N45 neodymium magnets found inside the chunky soles. The gravity-defying sensation comes from the magnets being at odds with one another.
Patrick Jreijiri, a mechanical engineer and designer for the 20:16 MoonWalker, told LiveScience that the shoes are lined with memory foam for extra added comfort. He said the shoes will also avoid the weighty issue of...weight.
Related: Air Bonsai: Create your own floating tree
"The genius design in it is that it has a 0.24 inch gap between the magnets, and the closer the magnets come to each other, the more pull you will have," Jreijiri said. "So, if you're 132 lbs., you'll feel the same thing as if you are 397 lbs."
Enthusiasm for the shoe is undeniable. On the team's Indiegogo fundraiser page, 1,440 backers pledged $144,856 towards the campaign, defying the "gravity" of its initial $20,000 goal. There are four more days to go for this campaign and Moonshine Crea hopes to roll out the shoes by the end of the summer.