Missile makers use virtual 'CAVE' to test weapons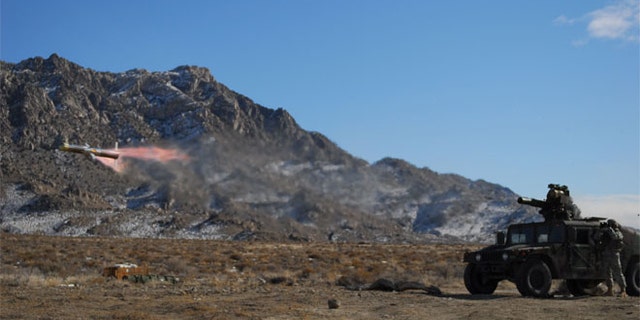 Tucson, Ariz.- Raytheon Missile Systems received the 2014 Excellence in Innovation award from the Arizona Manufacturers Council for its innovative use of virtual reality in missile design.
Raytheon's CAVE, or Computer Assisted Virtual Environment, uses theater-sized 3D screens to turn a workstation into a realistic remote location. With the press of a button, engineers can be face to face with a virtual missile. They then use the technology to help perfect the design.
The process starts with a computer-aided design of the product, which is then rendered into a 3D model. These models are placed onto cutting-edge S3D displays in the CAVE. Designers then work with these lifelike models to make necessary changes before making the physical prototype.
"Raytheon strives to leverage the latest technology in designing the best possible products for all of our customers," said Kim Ernzen, Raytheon Missile Systems Operations vice president, in a press release.
"By developing solutions in a virtual environment, Raytheon is reducing cycle time and costs while increasing reliability and value."
The CAVE links designer and engineers to suppliers and company partners, allowing all parties to transport to the same virtual space.
"Raytheon leverages the latest technology to provide the best possible solutions for our customers," said John Patterson, public relations manager at Raytheon Missile Systems, in a press release.
The CAVE also helps developers demonstrate products and solutions by "immersing customers in simulated environments- complete with 3D imagery and augmented-reality backdrops that feature varied landscapes."
Potential customers can see a virtual version of the missiles in action, giving them a sense of how they will perform out on the field.