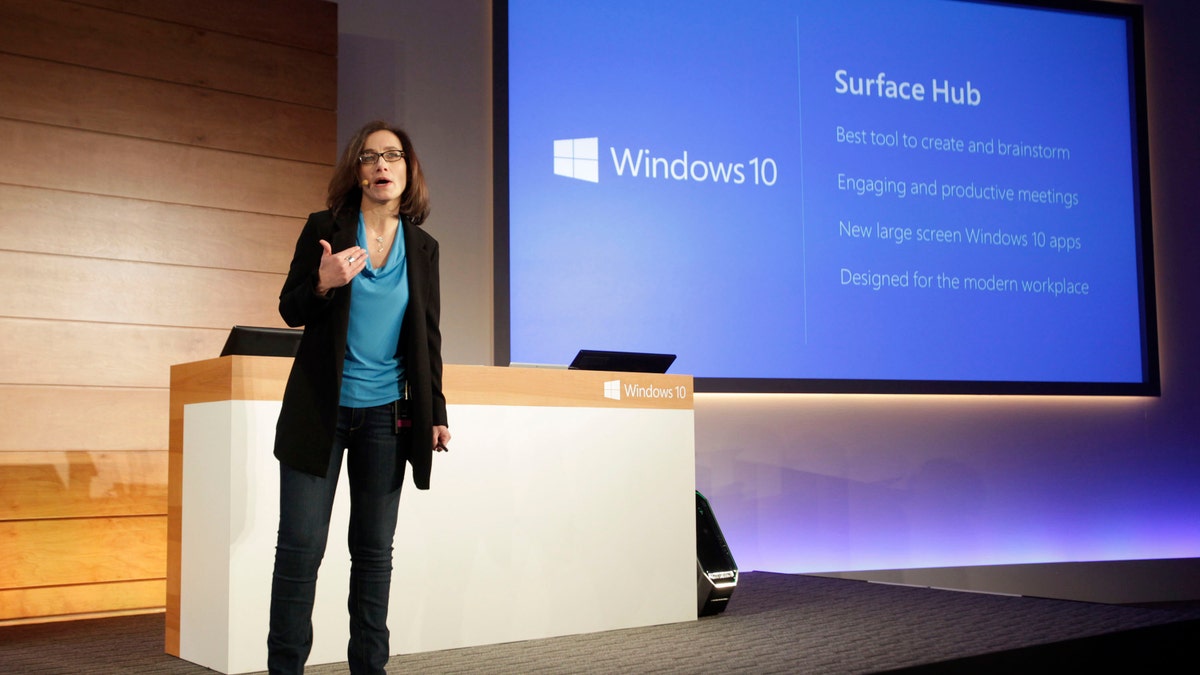 At its Windows 10 event Jan. 21, the company showed off the Microsoft Surface Hub -- an 84-inch 4K device designed for improved collaboration in the workplace. We had a chance to try out some of the Surface Hub's features and found it to be mostly smooth and smart.
During a live-streamed demo, Microsoft's Hayete Gallot showed off how the Surface Hub woke up when she walked in front of it, thanks to the device's built-in sensors. When she picked up a pen from in front the Hub, it automatically launched the OneNote app, which has been optimized for the larger screen.
MORE: The Most Exciting New Windows 10 Features
Gallot said the stylus's "ink" is fluid and doesn't lag, acting just like pen on paper, to power more seamless group discussions. When we tried it out, the inking was mostly smooth, and an eraser feature also worked. We also liked that two people can write on the screen at the same time, and that you can select something someone else drew and move it elsewhere. There was some glitchiness, though. Sometimes when two people went to write at the same time, a streak would appear between the two points, then disappear.
In addition, you can split the screen between two apps and clip items with one touch. On stage, Gallot opened OneNote and a 3D model app side by side, then zoomed in to a specific part of the drawing, touched a button on the top right of that window, and the graphic showed up almost instantly on OneNote.
Teleconferences will also get much easier with the Surface Hub. On a Skype for Business call at the event, Gallot showed how a team member was able to share a presentation from a different tablet. She then pulled up a separate presentation, taking over the previous one, and drew on the slides with her stylus. And all the members on the Skype call were able to see everything she did.
When a Surface Hub meeting is over, all of the participants should automatically receive the notes so they can organize their thoughts and take next steps. The system knows who was invited to the meeting, and automatically shares the assets with attendees.
The device also packs dual cameras, a mic array and speakers, and will run Windows 10 apps enhanced for the big screen. Microsoft hasn't shared more details on the internal specs, price nor availability for the Surface Hub yet, but we expect to hear more soon. Stay tuned for more details.