Microsoft Releases Preview of Internet Explorer 10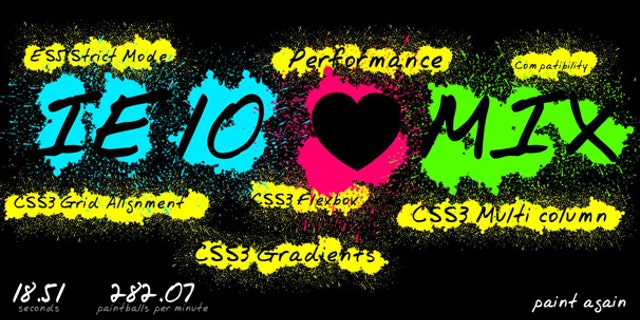 What? Another Internet Explorer already?
Just a month after Microsoft launched Internet Explorer 9 at South by Southwest, the Windows giant unveiled its Internet Explorer 10 Platform Preview, a sneak peak at some of the new features in store for the next version of the leading web browser.
Internet Explorer 9 has gotten rave reviews from critics for its improved interface, fast performance and enhanced security -- but for a browser looking to reassert itself in a now crowded marketplace, there's no time for rest.
"We're about three weeks into development of IE10, and based on the progress we've made, we want to start engaging the development community now," wrote Microsoft corporate vice president Dean Hachamovitch in a Tuesday post on the IEBlog.
Though no release has yet been announced, Platform Preview 1 is already available for download, and according to Hachamovitch, it represents a "next wave of progress" -- a browser for the modern world. The main focus is HTML5, a next-level programming language for the Internet that is quickly becoming the industry standard. Microsoft has a demo showing off these new features in action, highlighting more flexible layouts, gradients and even 3D transforms.
The team's commitment towards Windows optimization seems natural, and Hachamovitch believes that this marriage will ultimately provide a much better web experience.
"We built IE9 from the ground up for HTML5 and for Windows to deliver the most native HTML5 experience and the best Web experience on Windows," Hachamovitch said. "IE10 continues on IE9's path, directly using what Windows provides and avoiding abstractions, layers and libraries that slow down your site and your experience."
Naturally, not all agree, such as Firefox chief Mike Belztner who countered the claim.
"Mozilla has always believed that the full, modern, open Web should be accessible by as many people as possible, which is why we have continued to invest in cross platform development," Belztner told PC Magazine. "If a platform is capable of supporting the technology used by tomorrow's Web pages, then it's worth our time to support it."
All in all, it's now abundantly clear that the successes of Firefox and Chrome have reignited a fire under Microsoft, which famously let its hugely dominant browser stagnate for many years. Now with two major contenders hot on its heals, quicker releases are becoming an industry standard.
Mozilla's Firefox 4 launched just weeks ago, but plans for the June 21 release of Firefox 5 have already been announced. Google's Chrome 10 came out in February and Chrome 11 is already in beta as well.
This also means that this latest iteration of Internet Explorer is more evolutionary than revolutionary, offering little in terms of real tangible benefits to general users, such as interface updates or performance boosts. Still, that the marketplace has been revitalized by healthy competition can only be good for the consumer in the long run.