Mark Zuckerberg's notes photographed, show he was ready to punch at Apple if Congress pushed him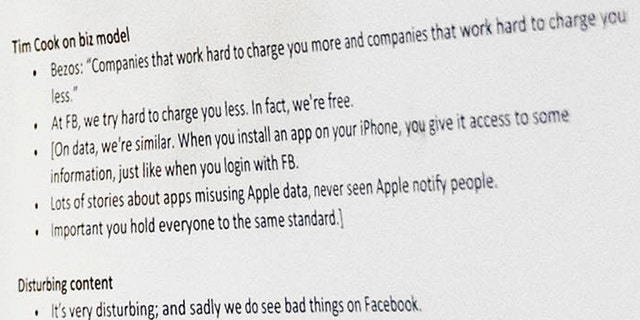 A picture taken by a quick-thinking photographer of Facebook CEO Mark Zuckerberg's binder shows he was prepared to go after Apple and specifically its CEO Tim Cook after Cook said "I wouldn't be in this situation," referring to the Facebook data leak.
Taken by The Associated Press, the picture shows Zuckerberg's binder is full of information, including a prepared retort in case he was asked about the comments Cook recently made. The notes reference a mantra from Amazon CEO Jeff Bezos, who has said there are "[c]ompanies that work hard to charge you more and companies that work hard to charge you less." Zuckerberg would follow that up by saying, "At Facebook, we try hard to charge you less. In fact, we're free."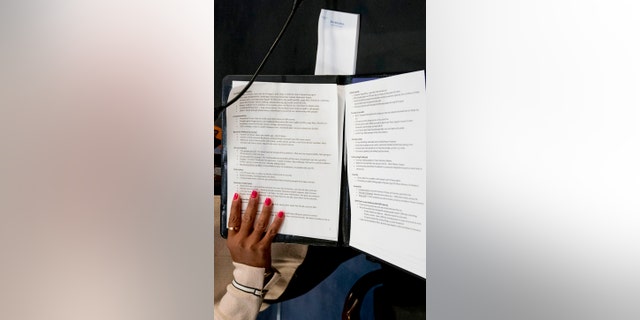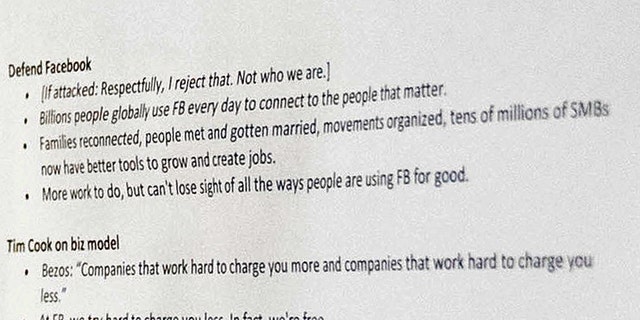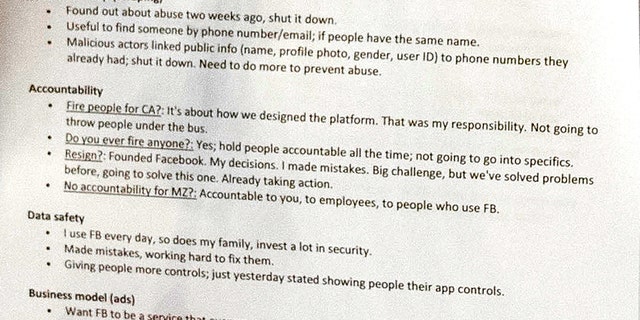 He also may have mentioned that when someone installs an app on an iPhone, you give the iPhone accesss to some information, "just like when you login with Facebook."
ZUCKERBERG TOUTS PLAN TO PROTECT FACEBOOK USERS, BUT CONGRESS APPEARS SKEPTICAL
In the notes, there is also a mention that there are "lots of stories about apps misuing Apple data, never seen Apple notify people" and it is "important you hold everyone to the same standard."
There are also references made to the way Facebook distributes content, how it handles the diversity problem in Silicon Valley, its competitors (Zuckerberg said during the questioning that Apple was one of its competitors), its business model and more.
The notes are not the first time Zuckerberg has referenced Cook's comments.
In an April 3 interview with Vox, Zuckerberg said Cook's comments were "extremely glib and not at all aligned with the truth."
He also took a jab at Apple's pricey products, warning customers to be wary of "Stockholm syndrome."
"I think it's important that we don't all get Stockholm syndrome and let the companies that work hard to charge you more convince you that they actually care more about you. Because that sounds ridiculous to me," Zuckerberg said.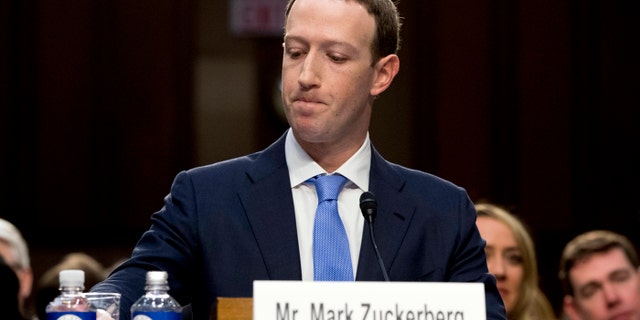 Privacy concerns cause abashed feeling in Silicon Valley
Zuckerberg's potential retort comes after Apple's Cook made comments at the end of March in an interview with Recode's Kara Swisher and MSNBC's Chris Hayes.
When asked what Cook would do if he were dealing with the problems Facebook and Zuckerberg are currently dealing with, Cook succinctly replied: "I wouldn't be in this situation."
During the same interview, he also said that Apple could "make a ton of money if customers were our product. We have elected not to do that."
HOW TO CHECK IF FACEBOOK SHARED YOUR DATA WITH CAMBRIDGE ANALYTICA
A few days later, speaking at the annual China Development Forum in Beijing, which he co-hosted, Cook called for "well-crafted" regulations to prevent the information of users being put together and then utilized in ways that they did not know about or approve of.
Cook's statement will add to the mounting scandal hitting Facebook, which has pushed its stock price down 14 percent, and the growing pressure on co-founder Mark Zuckerberg to overhaul its privacy protocol with app developers following revelations that his company allowed a firm paid by the Trump campaign, Cambridge Analytica, to amass personal data on 70 million users.
"I think that this certain situation is so dire and has become so large that probably some well-crafted regulation is necessary," Cook said after being asked if the use of data should be restricted in light of the Facebook incident.
He continued: "The ability of anyone to know what you've been browsing about for years, who your contacts are, who their contacts are, things you like and dislike and every intimate detail of your life—from my own point of view it shouldn't exist."
Cook said Apple had long worried that users were giving up access to information without realizing the ramifications of how the data could be used.
Fox News' Chris Carbone and Benjamin Brown contributed to this story. Follow Chris Ciaccia on Twitter @Chris_Ciaccia