Mark Zuckerberg Hides His Google+ Friends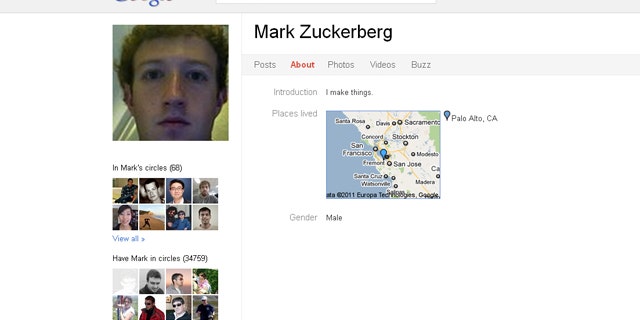 Mark Zuckerberg, the billionaire founder of Facebook, has gone from hero to zero -- on Google+ anyway.
Zuckerberg made headlines last week when his profile soared to the top of the popularity charts on the rival Google+ social network. As of July 5, he had 10,000 more followers than Google founder Larry Page, and nearly twice as many as co-founder Sergey Brin.
But late Tuesday night, the social network king mysteriously dropped off the charts at SocialStatistics.com entirely -- as did several key Google executives.
"Mark Zuckerberg and Google management (Matt Cutts, Larry Page, Sergey Brin, Vic Gundotra and Marissa Mayer) all changed their profiles overnight and consequently dropped out of the Google+ top 100 list!" explained Boris Veldhuijzen van Zanten, the founder of tech news site thenextweb.com and the creator of the top 100 list.
A post at thenextweb listed some potential explanations for the change: from experiments with privacy features to a new company policy for Googlers on the network designed to curb the popularity contest.
A Facebook spokesman did not immediately respond to FoxNews.com questions about the change, nor did representatives for the Google+ social network.
With Zuckerberg off the list, first place falls to popular blogger and technologist Robert Scoble, who has 43,131 followers on the new social network, followed by tech journalist Leo Laporte with 42,875 and Digg founder Kevin Rose with 38,287.
Zuckerberg has yet to post a status update on the upstart social networking (though his profile picture was recently updated), leading many to question at first whether it was even the real Mark Zuckerberg.
His identity was confirmed by Scoble, who tweeted Zuckerberg's surprise that people doubted him: "Zuckerberg just texted me back. Says 'Why are people so surprised that I'd have a Google account?'"