Marines' ultra-powerful heavily-armed mega-drone will devastate enemies of the US
Armed to the teeth with an array of powerful, destructive weapons, an incredible thinking drone may soon hit the skies to keep Marines safe.
The Marine Corps is aiming to build a revolutionary drone called MUX (Marine Air Ground Task Force Unmanned Aircraft System-Expeditionary).
The MUX will terrify enemies of the United States, and with good reason. The aircraft won't be just big and powerful: it will also be ultra-smart. This could be a heavily armed drone that takes off, flies, avoids obstacles, adapts and lands by itself — all without a human piloting it.
AMAZING MILITARY ATVS ARMED WITH LASER WEAPONS WILL BLAST DRONES OUT OF THE SKY
If goals are met, the MUX will be a drone that can truly run vital missions all by itself. Sure, it can be an eye in the sky, but it could carry all the same weapons as the F-35B — a variant of the sophisticated fifth generation stealth fighter jet, the F-35.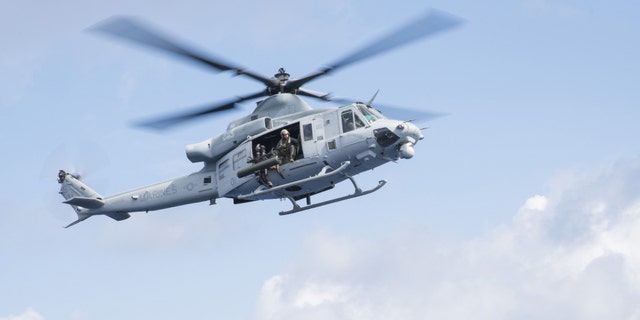 Earlier this month, Marines threw down the gauntlet to the industry to build the MUX, providing a detailed wish list of remarkable capabilities. Here's a look at what the Marine Corps expects for the MUX.
Groundbreaking Basic Capabilities
The goal is for MUX to fit on a ship with a similar footprint to a UH-1Y Venom helicopter. When it is launched for a mission, it will be able to take off vertically, fly a radius of up to 700 nautical miles and carry 9,500 pounds.
To expand the time in the air, the MUX will be able to be refueled in the air by another aircraft. In the air, it can reach heights of 30,000 feet.
The MUX will not need a formal runway or landing zone to land. This will give the Marine Corps a lot more flexibility. For example, if the MUX has been sent to provide critical resupply of ammunition, food and medical supplies to a hard-to-reach forward operating base with tough ground conditions, the MUX will still be able to land to deliver the supplies.
PODCAST: INSIDE HOW ELITE COMMANDO COMBAT DIVERS BATTLE THREATS DEEP UNDERWATER WITH MARINE FORCE RECON RUDY REYES 
Armed With a Devastating Arsenal
The Marine Corps is looking for MUX to carry a staggering array of weapons.
For strikes against ground targets, the MUX could carry AGM-114 Hellfire air-to-surface missiles; the advanced precision kill weapon system (APKWS) laser-guided rocket and the AGM-88E Advanced Anti-Radiation Guided Missile (AARGM).
US MILITARY EYES FUTURISTIC 'BIONIC ARM' FOR TROOPS
To eliminate enemy aircraft threats, the MUX could carry AIM-9X air-to-air missiles and the AIM-120 Advanced Medium-Range Air-to-Air Missile (AMRAAM).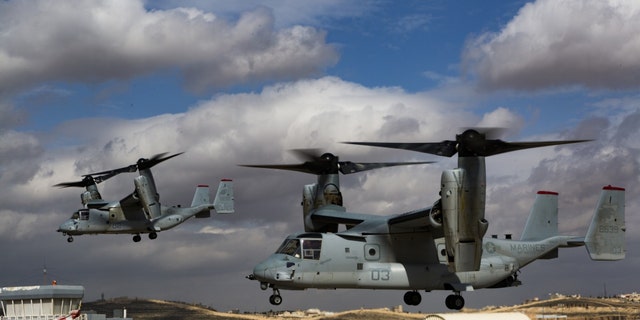 MUXes may also carry small-diameter bombs and even another, much smaller drone onboard. Potentially, this little drone could be deployed as an electronic warfare weapon, loaded up with explosive capabilities as another precision strike option – or be deployed to provide additional in-depth collection of data on the enemy.
PODCAST: HEAR THIS BRAVE NAVY SEAL'S LESSONS FROM THE BATTLEFIELD THAT CAN CHANGE YOUR LIFE
Strike Missions
So how would the MUX use that hardcore arsenal of weapons?
Bear in mind, these are super smart drones that can "think" for themselves. Crucially, the MUXes will be able to fly as armed escorts to the MV-22 Ospreys as they transport Marines from ship to battlespace.
The iconic-looking Osprey helicopter is often used to transport troops. It can carry about 22 Marines and two air crew fully loaded up with their combat gear. Thanks to their revolutionary design, Ospreys can shift from a helicopter style vertical lift to flying like an aircraft, which enables them to hit speeds of 270 knots.
ARMY SETS SIGHTS ON NEW SNIPER RIFLE
We can expect the MUXes will be able to hit at least those Osprey fast speeds.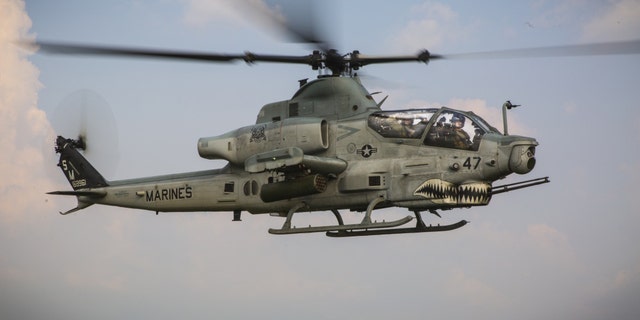 They will also be able to provide armed escorts to help protect other aircraft, vessels — and even aircraft carriers from threats.
With most likely a human in the loop in the near term, the MUX will be able to run offensive air support missions too, such as targeting and launching strikes against enemy combatants, strongholds and arsenal.
Scouting, Recon, Surveillance and Intel Missions
In more of a scout role, the MUX could deliver early warnings to American forces. Traveling in advance of the force, the MUX can spot threats, gather data and relay the information back. Early warnings can spoil an enemy's plan to surprise and kill American troops on the ground.
Drones are often associated with a "spying" mission. MUXes will also be able to deliver an eye in the sky providing intelligence, surveillance and reconnaissance or ISR.
MUX Teams
If the Marine Corps were mounting an assault, then one MUX could travel out ahead to the target and loiter to provide a constant real-time picture back to the Marines.
US ARMY TANKS GET FUTURISTIC SHIELDS TO DESTROY INCOMING THREATS
Another MUX could then provide armed escort to protect the Ospreys flying the Marines from the ship or base to the target area. If Marines become wounded and need to be MEDEVACed to care, then this MUX could also provide armed protection for a safe return.
Both MUXes can also utilize their deep arsenal to provide close air support to the Marines on the ground.
Electronic Warfare Missions
The MUX will also be able to conduct electronic warfare missions. One example would be flying out in advance of U.S. forces and jamming all the enemy devices so, by the time human forces arrive, the enemy cannot communicate with each other.
MUX could also perform more mundane but valuable roles, like communications relay and transporting cargo.
What Will MUX Look Like?
The Marine Corps has yet to choose a winning design. But we can take a look at a few companies with advanced capabilities that might be adapted to fit the specific MUX requirements to get an idea.
US SOLDIERS SET TO RECEIVE NEW SPECIAL OPERATIONS-STYLE NIGHT VISION GOGGLES
Three of the most remarkable are Vigilant, ARES and TERN. All three feature very futuristic looks: Bell's V-247 Vigilant is a tiltrotor aircraft, Lockheed Martin's ARES has a twin-ducted design, and Northrop Grumman's TERN combines stubby wings and propellers on the nose.
When Will MUX be Fielded?
Currently, the Marine Corps aims to have the first MUX operational in about seven years. This first version would be land-based. The hope is that the sea-based MUX that can vertically take off from and land on vessels will be ready before 2028 — within 10 years.
A fully operational fleet of these armed-to-the-teeth flying giants is expected by 2034.