'Make dating great again': Trump singles site sees membership spike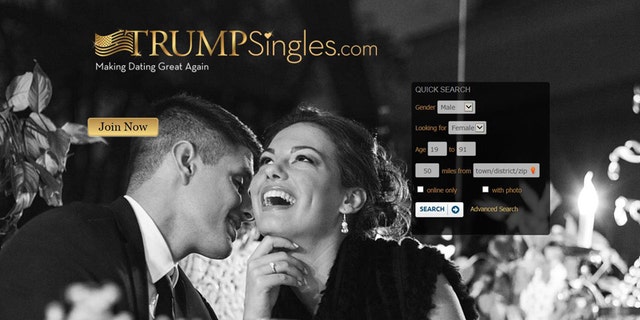 A dating site that matches Trump-supporting singles is enjoying a spike in membership ahead of the president-elect's inauguration Friday.
TrumpSingles.com has racked up around 24,000 members since its official launch in June. David Goss, the site's founder, told FoxNews.com that membership jumped by about 5,000 after Donald Trump's shock election victory in November, and another wave of new members has just signed up. "We have had an even bigger response now, in the last few days," he said. "We have had five to six thousand in the last two-and-a-half days."
"In the last three days we have had more people come to the site than we have since we started," Goss, added.
TRUMP'S TWITTER: COULD HACKERS WREAK HAVOC FROM THE WHITE HOUSE?
The site, which aims to "make dating great again" was set up by Goss, a Republican, when he saw the bitterness that accompanied last year's presidential election. "It was basically the divisiveness of the election season," he said. "I have friends that I talk to that are Democrats and Republicans that have related stories of going on dates and when the topic of politics is mentioned, the date turns sour from there."
TrumpSingles.com is not the only dating site to emerge amid the tumult of the 2016 presidential election. Maple Match, for example, helps Americans fleeing the Trump presidency find a Canadian soulmate.
WHAT IF TRUMP'S TWITTER WAS HACKED?
Goss attributes the recent spike in TrumpSingles.com membership partly to the media attention the site has received, as well as Trump supporters seeking kindred spirits.
"With the amount of hate that Trump supporters get, they want a community to go to, especially folks that are in more liberal areas," he said. "For example, it's hard being a Republican in the L.A. area – it's not an easy thing."
TrumpSingles.com members pay $19.95 a month to use the service.
Follow James Rogers on Twitter @jamesjrogers