Launch of Massive Secret Spy Satellite Delayed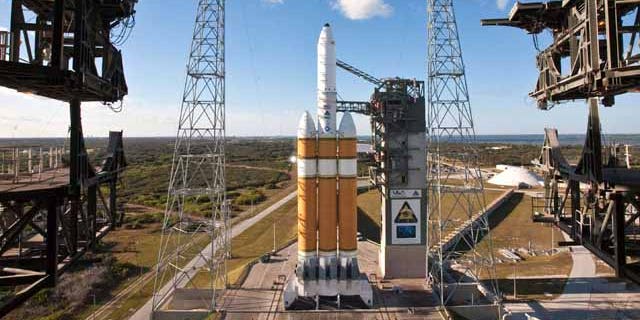 Plans for a Friday launch of a rocket with a mystery payload were canceled at the last hour -- a new date will be scheduled, but the payload remains a mystery.
Commercial rocket launch company United Launch Alliance wants to blast NROL-32 into space from Cape Canaveral, Fla., carrying a cargo that the company can only describe as belonging to the National Reconnaissance Office. In fact, the rocket company -- a joint venture of Lockheed Martin and The Boeing Corporation -- doesn't even know what it's blasting into orbit, a spokesman told FoxNews.com.
"I have no idea. NRO will have to answer," Michael J. Rein said in response to FoxNews.com's inquiries about the craft's contents. The ULA's website states only that the launch will support the military's national defense mission. And the secretive Reconnaissance Office did not immediately respond to FoxNews.com's requests for more information.
But the massive rocket is widely believed to be carrying the largest satellite in the world, on a mission to bolster U.S. eavesdropping abilities.
According to a report on SpaceFlightNow, the clandestine payload is an essential eavesdropping spacecraft that requires the powerful lift provided by the Delta 4-Heavy to reach its listening post. The NRO has flown various types of communication-interceptors since the dawn of the space age, the site explained, and analysts say it is virtually certain this Delta 4-Heavy is hauling another.
"I believe the payload is the fifth in the series of what we call Mentor spacecraft, a.k.a. Advanced Orion, which gather signals intelligence from inclined geosynchronous orbits. They are among the largest satellites ever deployed," Ted Molczan, a respected sky-watcher who keeps tabs on orbiting spacecraft, told the website.
Destined for geosynchronous orbit 22,300 miles above the planet, this new spacecraft supposedly will unfurl an extremely lightweight but gigantically huge umbrella-like antenna to overhear enemy communications and aid U.S. intelligence.
"The satellite likely consists of sensitive radio receivers and an antenna generally believed to span up to 100 meters (328 feet) to gather electronic intelligence for the National Security Agency," Molczan said.
All systems seem go for the launch;, which had been postponed by a day from its initial launch attempt on November 18. A spokesman for the company tweeted Friday afternoon that "the weather forecast for tonight's launch of the Delta IV Heavy NROL-32 mission calls for a 90 percent chance of acceptable weather."
Read more at SpaceFlightNow.