LA Jail Introduces New Nonlethal Laser Beam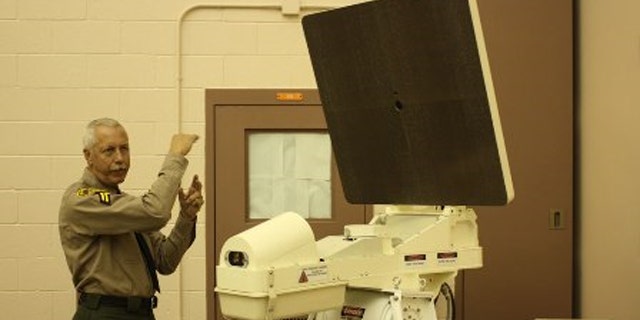 Los Angeles law enforcement officials have just unveiled the latest in nonlethal weaponry – a state of the art laser-beam officials hope will help reduce prison violence.
Developed by Raytheon, the Assault Intervention Device (AID) emits an invisible heat ray the size of a CD that penetrates the skin up to 1/64 of an inch with a range of 80-100m feet. It was originally designed as a larger military version which was mounted on Hummers for crowd control.
Deputies who tested the device on themselves described the sensation as a "focused blast of hot air." The pain is so unbearable that in most cases, it causes an instinctive reaction to get out of the way. "No one can stand there for more than three seconds because it really hurts," Mike Booen, vice president of advance security at Raythoen told The Daily News.
The first 71/2-foot-tall unit will be installed at Pitchess Detention Center in Castaic, California, which endured almost 400 inmate fights last year alone. Typically, when one of these fights break out, deputies must wait for reinforcements to arrive and setup before moving in. With the AID, security can now take immediate action from the comfort of the command center with nothing more than a joystick.
The unit is believed to cost hundreds of thousands of dollars but officials believe the benefits outweigh the high price tag.
"We hope that this type of technology will either cause an inmate to stop an assault or lessen the severity of an assault by them being distracted by the pain as a result of the beam, "said Command Bob Osbourne of the Sheriff's Department Technology Exploration Program. "So that we have fewer injuries, fewer assaults, those kinds of things.
Officials hope to expand across the U.S. following a successful six month trial run.