Jon Stewart Slaps the Internet in the Face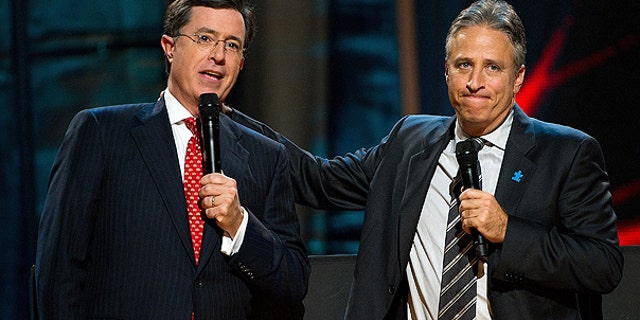 Don't make Fark angry, Jon Stewart. You wouldn't like Fark when it's angry. But unfortunately, it may already be too late.
Fark.com founder Drew Curtis is incensed that Jon Stewart and Stephen Colbert haven't given the online community due credit for the success of the Rally to Restore Sanity.
The rally, co-hosted by the Comedy Central comedians, drew a crowd CBS News estimated at 215,000 this past Saturday on the National Mall in Washington, D.C. -- a crowd inspired and fueled by community activism on Fark.com and online bookmarking site Reddit. Yet when Reddit founder Alexis Ohanian asked Stewart what role the Internet played in convincing him to hold the rally, the response was clear: "it didn't hurt."
Curtis told FoxNews.com that the snub was hard to understand.
"It's not that credit is deserved, it just doesn't make any sense that it's not there," he said.
Yet Colbert similarly abstained from giving the Internet credit for the massive turnout when he thanked users for the half million dollars raised for charity.
"It didn't affect attendance one way or the other," Colbert said. Curtis was so upset by the comments that he submitted an open letter to Fark.com, lambasting what he considered "backhanded compliments" by the comedy duo.
"Did you hear that Reddit? All that work you put into getting the word out, organizing meetups, and convincing people to go 'didn't hurt,'" mocked Curtis in the letter. "You had no role in [the massive turnout] either: It was all Comedy Central, all the way."
A publicist for Stewart and Colbert declined to comment on Curtis' letter.
It could be indicative of the persistent mainstream dismissal of the Internet's impact, but Curtis explained to FoxNews.com that most parties simply aren't aware -- Reddit included. "Had the mainstream media, who got eviscerated at the rally, jumped on it, it would be a different story."
Curtis conceded that the success of the rally isn't entirely due to Reddit or Fark, yet he feels Stewart's comments were inappropriate. "This is about common courtesy," he wrote. "If someone does you a favor, a thank you is a kind and appropriate response." Instead, Curtis feels Stewart's slight was a "slap in the face."
Stewart also stated that Comedy Central had the idea for the rally months before Reddit did -- which Curtis attributes to a guilty conscience. He wrote, "who thought of it first doesn't matter, it is impossible to deny Reddit's actions encouraged Comedy Central to pull the trigger."
Curtis is now demanding that Jon Stewart give Ohanian and Reddit a formal apology, and he warned that Internet communities could very well pull future support if the Daily Show host didn't right his alleged wrongs.
If not, Stewart may make the Farkers mad. And he may not like what they turn into.