John Deere's Battle Gear: Classic American Companies Supporting American Soldiers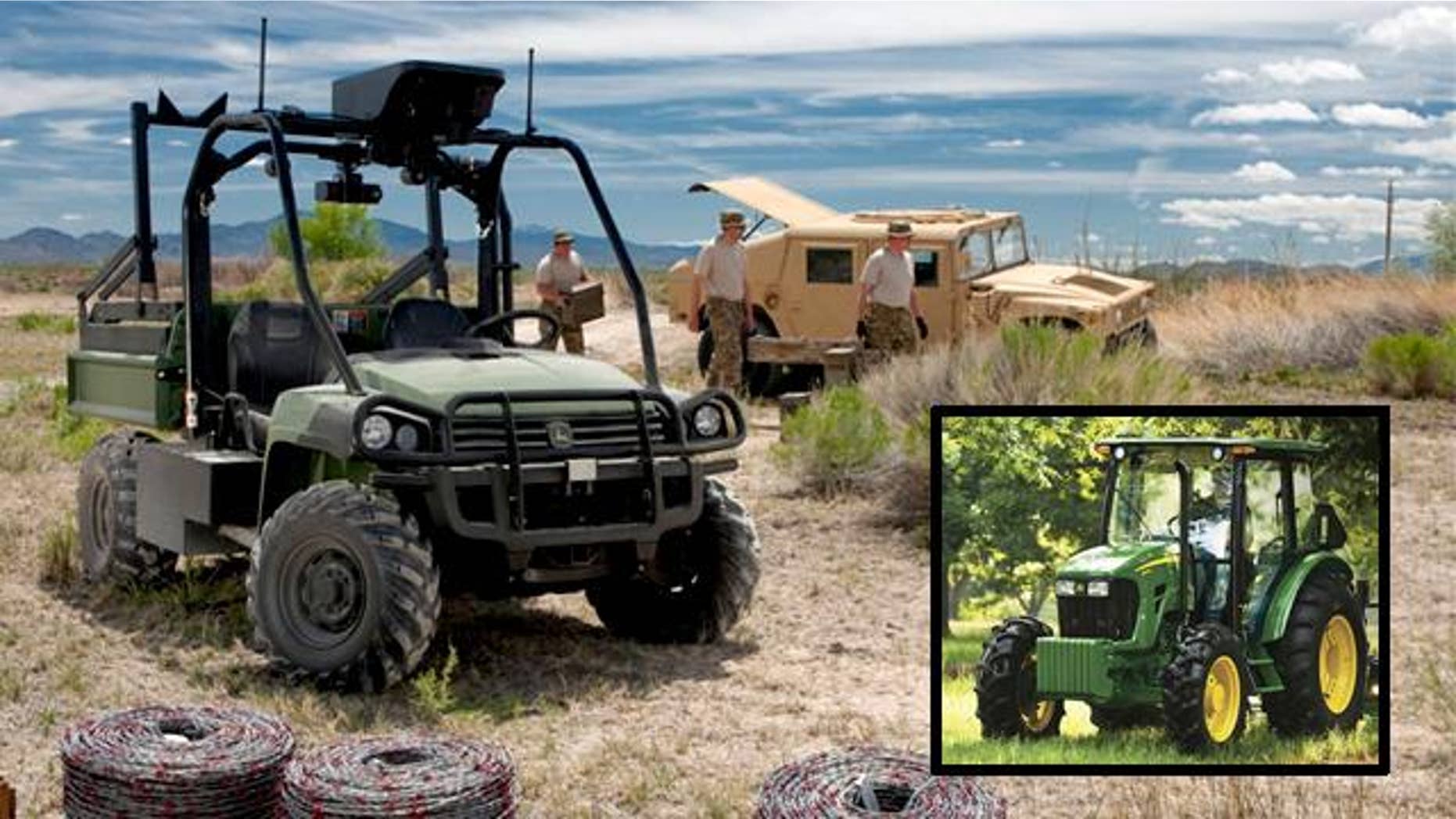 John Deere has gone to war.
You might be surprised to learn that the green-tractor and -mower company makes a wide range of products, including some remarkably cool military gear.
The company isn't alone: Here are three top American brands that have been quietly taking know-how honed from years of experience on U.S. plains, ranches and ski slopes into the combat zone.
Gators Go to War
John Deere, the classic go-to for American farmers and backyard enthusiasts, supports soldiers in the war zone as well.
Revealed to the public for the first time in September, John Deere's R-Gator Assisted Carriage System developed with Boeing Defence UK is a militarized robotic utility vehicle built upon the tried and true Gator chassis.
Engineered to lighten the load of the dismounted soldier and therefore increase maneuverability, the R-Gator ACS exploits the obstacle avoidance as well as precision navigation and guidance technology John Deere evolved through more than twenty years of agriculture experience. It can detect obstacles up to about 65 feet away with two forward laser range sensors that are reinforced by one rear-looking sensor.
The R-Gator ACS can be driven manually or autonomously through rough terrain with an easy to use controller ripped straight from a game console. It can carry approximately 1,400 pounds of equipment -- useful for both extended operations as well as for reducing the load for the individual soldier.
Militarized Golf Carts
Snowmobiles, motorcycles and "neighborhood vehicles" (you might just call them golf carts) are the bread and butter of power sport provider Polaris.
And with more than 3,000 military vehicles already fielded in theatre, Polaris has a surprising second business: Take the Polaris MV700 -- a souped-up golf cart at heart -- that can be air-dropped into a hot zone.
Last week, Polaris was granted a $54 million contract from the U.S. Army to provide these vehicles, spare parts and trailers for Iraqi and Afghan security forces as well as the U.S. and allied governments.
Side by sides, small off road vehicles long popular with rangers, have plenty of practical application for the war zone. Top pick of the litter is the militarized version of the Polaris Ranger Razor. Available in "Desert Tan," the controls are similar to a road vehicle but built for off roading.
Kitted out for tactical operations, the Polaris Razor has keyless ignition and "blackout" capability (so that during an operation, the lights can be switched off). With a 800cc four-stroke engine, it can carry two soldiers and reach 68 mph -- and tow around 1,500 pounds.
From Sports to War
Oakley is a go brand to for athletes, but it also equips warfighters. The Standard Issue range, not available in retail stores, focuses on users from the military through to the FBI and Secret Service and covers the range from eyewear and through to gloves. The stand-outs are their goggles, boots and shades.
On the shades front, the Oakley Standard Issue surpasses U.S. government standards for UV protection, impact resistance and clarity with "Plutonite" lenses. I'm a fan of the Oakley SI Ballistic M Frame 2.0 Laser Array, which are fully compatible with helmet-mounted night-vision gear -- and exceed the ANSI high-velocity impact and high mass protection industrial standards.
The company also makes goggles tailored for war zones: They protect from laser light, sand, dust and water. Oakley protects the toes too, with its Land Sea Air Water Boot known as the LSA.
Many boots are mere puddle-hoppers not up to the full submersion that may be required for special ops; conventional waterproofing can retain the inevitable water that crept in during submersion.
The LSA Water Boot has excellent traction on challenging flat wet surfaces and uneven ones. It can be worn with swim fins and is cleverly designed to rapidly drain water and to dry quickly. The "Eva" footbed has holes to allow rapid drainage while the midsole is designed with drainage pillars.
An implicit bonus to rapid draining and drying? Fewer footprints for increased stealth.
Ballet dancer turned defense specialist Allison Barrie has travelled around the world covering the military, terrorism, weapons advancements and life on the front line. You can reach her at wargames@foxnews.com or follow her on Twitter @Allison_Barrie