Is this the world's first digital sofa?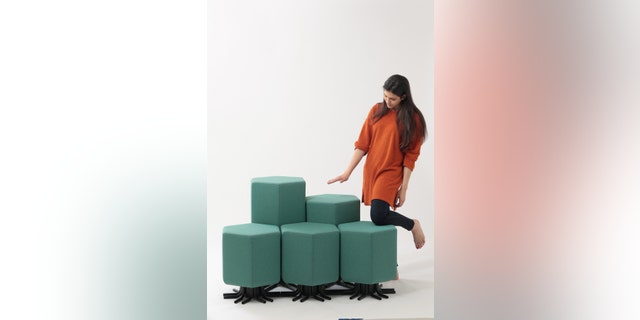 NEWYou can now listen to Fox News articles!
One exciting piece making its debut at Milan Design Week is the Lift-Bit, a so-called 'smart sofa' system that works with the user to make the sky the limit when it comes to lounging.
Lift-Bit is a collaborative effort from Italian design firm Carlo Ratti Associati, Swiss furniture manufacturer Vitra and engineering and interaction design from Opendot.
Related: Nike unveils 'Back to the Future'-style self-lacing sneakers
The furniture is comprised of individual honeycomb-shaped stools that fit together and can elevate to various levels, creating a custom fit. Lift-Bit said that when combined, the stools interact with one another, and depending on the number of stools that are combined, they recalibrate into other furnishings, including chairs, beds and sofas. "Dozens can radically redefine any settings," wrote Lift-Bit, in a press release. "Even with configurations reminiscent of a volcano or the Grand Canyon."

In addition, users have two options for activating the Lift-Bit: a simple hand gesture from close by, or using a mobile app, that includes templates and allows users to design their own shapes.
Lift-Bit is can also be saucy when the occasion calls for it. "The Lift-Bit system can even become 'bored': when not used for a long time, it will start shape-shifting on its own to engage users," explains the Lift-Bit website.
Related: Spring clean the high-tech way with these 5 gadgets
"Lift-Bit draws on the potential of Internet of Things (IoT) technologies to transform our interior landscape, giving form to an endlessly reconfigurable environment," Professor Carlo Ratti, founder of Carlo Ratti Associati studio and Director of the Senseable City Lab at MIT. "In the future, we could imagine an architecture that adapts to human need, rather than the other way around - a living, tailored space that is molded to its inhabitants' needs, characters, and desires."
The high-tech furnishings will be on display until Sept. 16 at Milan's XXI Triennale, "21st Century. Design After Design", within the "Rooms. Novel living concepts" exhibition.