Is Google's viral art app racist?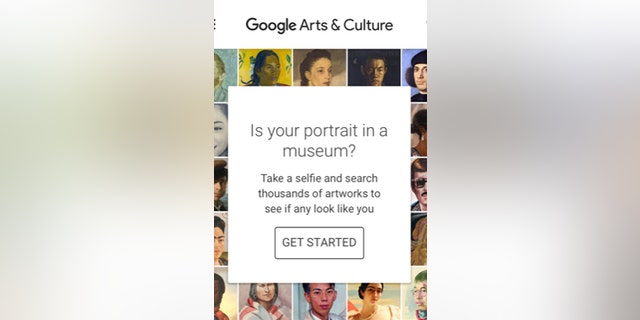 The latest update to Google's Arts & Culture app created a viral sensation by allowing users to compare their selfies to museum portraits, but has also sparked concerns about racial bias.
A number of users have cited the Eurocentric nature of the portraits within the app, which has been widely downloaded thanks largely to the new selfie feature.
Nancy Locke, associate professor and interim associate head of Penn State's Department of Art History, told Fox News, that, while the app is a "fun parlor game" for many, the diversity issue cannot be ignored.
GOOGLE APP COMPARES SELFIES TO MUSEUM PORTRAITS
"I'm seeing reactions on the part of a number of nonwhite people, however, that the app is matching them with a fairly limited, perhaps schematic, stock of faces from works of art in Asian and African cultures," she explained, via email. "If a white person gets matched with a 19th-century American portrait of someone who looks fairly similar, but two very different-looking Asian women get matched with the same woodblock print of a figure who looks nothing like them, it's fair to say that people will see racial bias in the app."
Locke says that the problem lies in the works of art that have made it onto Google's Arts and Culture app database. Collections in the U.S. and the U.K. account, respectively, for around 779,000 and 76,000 items in the database. Germany and France each account for around 60,000 items. India, in contrast, has about 30,000 items in the database and China has around 29,000. Mexico has just over 16,000 and Egypt has just under 13,000. Nigeria accounts for only 3,400 items.
"[Google] may be able to alleviate the problem by adding more works of art from outside Europe and North America," Locke said, but noted that the nature of art history poses a major challenge. "Part of the problem perhaps can't be fixed, though, in that it was largely wealthy Europeans who commissioned portraits in the centuries prior to our own, and these are the works of art that are popping up in the app for white people who try it."
"We can't create equivalent portraits, either from cultures that produced very different kinds of art through the centuries, or for people who, in the past, did not have the money and leisure to commission portraits," she added.
GOD IN CYBERSPACE: THERE'S AN APP FOR THAT - IN FACT, LOTS OF THEM
Google has not yet responded to a request for comment from Fox News.
While the app's algorithim has generated some impressive likenesses, it has also left many users scratching their heads when they see their purported "doppelgangers."
The portrait comparison is just one feature of the app, which also lets users take virtual tours of historic museums such as the Solomon R. Guggenheim Museum in New York. Users can also browse artworks by color and time period and zoom into famous artworks such as Vincent van Gogh's "The Starry Night."
Follow James Rogers on Twitter @jamesjrogers