Is Amazon's Kindle Oasis worth $290?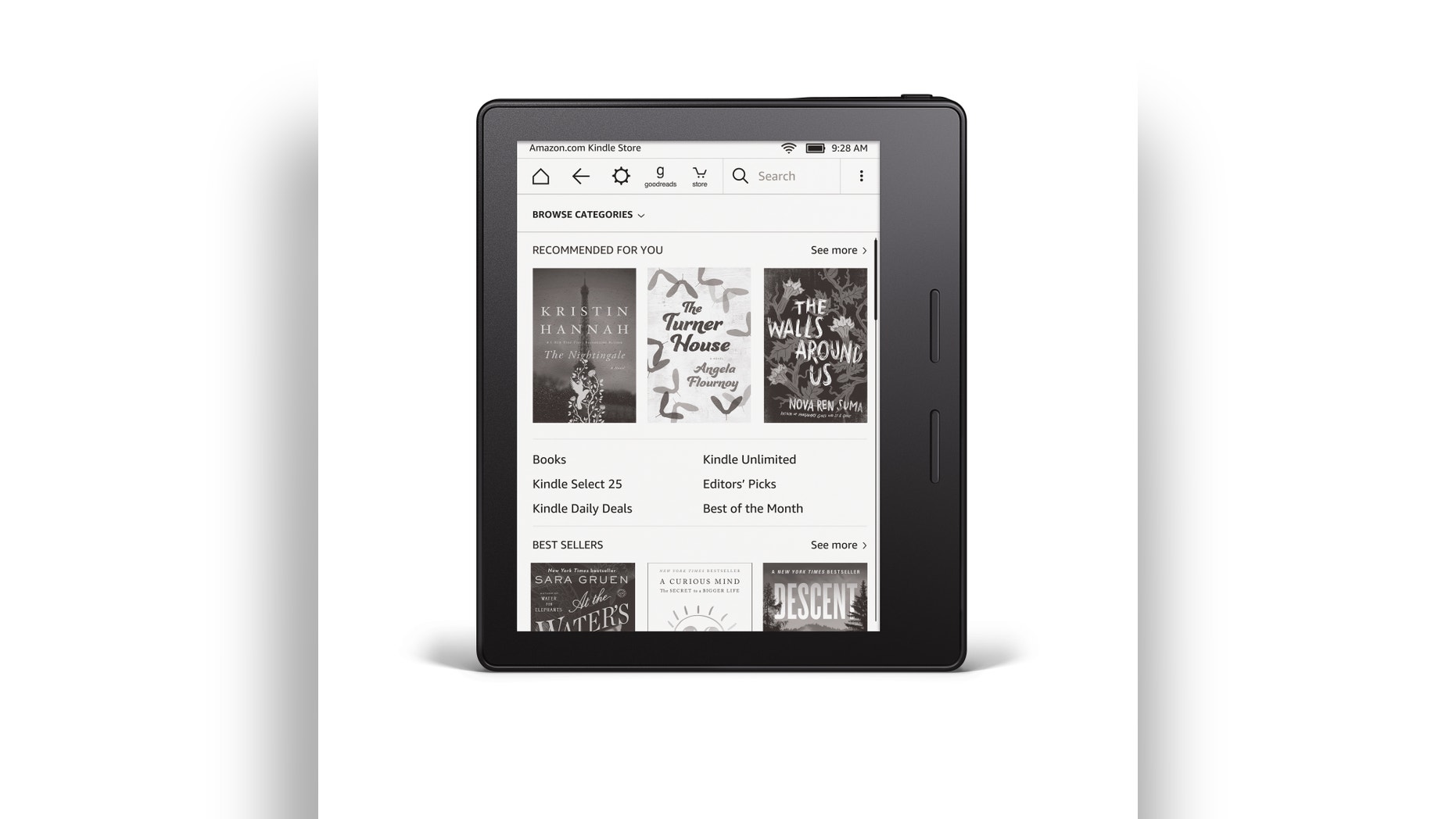 Amazon's funky new design for the Kindle Oasis is official. The pricey $290 e-reader adds to the company's E Ink device lineup. That's $90 more than the Kindle Voyage and $179 more than the Kindle Paperwhite. But for that premium you get up to 8 weeks of battery life, more uniform lighting and a new book-like design.
For its eighth iteration of the Amazon Kindle, the Oasis sports a wholly new design. One side features touch buttons, a thicker side and a wider bezel for an ergonomic grip, specifically for one-handed use. Amazon says that it shifted the center of gravity to your palm, mimicking the spine of a book. A built-in accelerometer knows which direction the device is facing, making it lefty friendly. You can use the buttons or the touch display to turn the page.
MORE: A Guide to Amazon's E-Readers
Amazon says it used a featherweight polymer to make this Kindle 20 percent lighter than the previous generations. It weighs just 4.6 ounces, and measures 5.6 x 4.8 x 0.33 inches.
The 6-inch E Ink display features the same 300 dpi resolution that's found on the Paperwhite and the Voyage. But this one has 10 LEDs for more uniform backlighting. Its 4GB of onboard storage should be plenty.
Amazon also introduced a new dual battery system with the Kindle Oasis. The company claims that this will enable the Oasis to last a staggering eight weeks on a charge, assuming a half hour of reading per day with wireless off and the light set to 10. Amazon says it will fully charge in three hours.
When you connect the e-reader to the battery in the cover, the Oasis uses the case's battery to charge. You can charge the two simultaneously if they are connected to one another. A hibernation mode minimizes the power consumption when the Kindle isn't in use.
You can get the cover in black, merlot or walnut leather. It features a magnetically triggered sleep function for the Oasis that wakes up as soon as the case is opened. The cover is included in the purchase price.
You can preorder the Kindle Oasis now, and units should start shipping on April 27. Will you be preordering one?