iOS Gets an Honorary USB Reader With PhotoFast's i-FlashDrive HD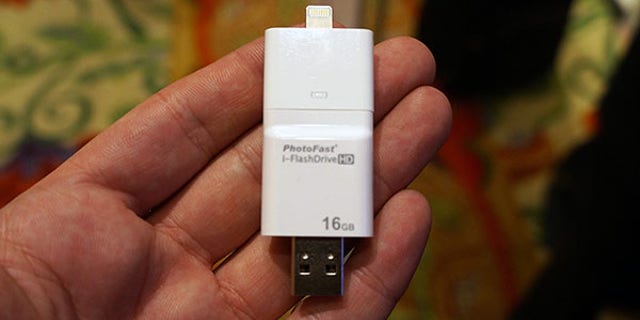 It's not always easy to get files onto your iPhone or iPad because, unlike most Android devices, iOS devices lack a microSD slot. Additionally, email and apps like Dropbox require an Internet connection and loading and syncing through iTunes every time you make a small change to a document can be a hassle. Luckily, there's PhotoFast's i-FlashDrive HD, a USB drive specifically for iPhone and iPad, which is a brand new version that we got to try at Showstoppers during this years CES 2013.
The i-FlashDrive HD has been around for a while, but this new generation is smaller and lighter than ever before. It comes in three different storage capacities, 16GB, 32GB and 64GB, which is plenty of room for all your important files. The USB drive connects and loads files through its a new and improved i-FlashDrive HD app, which now supports 38 different file types including 12 types of video files. This is a far cry from the extremely limited formats which can be read natively by iOS devices.
The i-FlashDrive HD app also supports AirPlay, sending your favorite movies, TV shows or music directly to an Apple TV connected television. We watched as an i-FlashDrive HD rep scrolled through various types of files, all organized in subdirectories, to find a movie trailer. He pressed play and the video immediately started streaming on the television behind the booth.
The i-FlashDrive HD brings the ease of a flash drive to iOS, which is known for its lack of support for numerous popular protocols a fairly limited. There's no word yet on the price of the new device, but it should be available soon.