Introducing the Hypnos Hoodie: a nap you can wear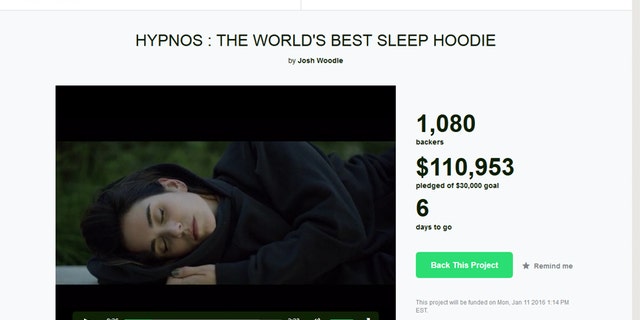 The Hypnos Hoodie is about to turn many a dream of napping on the go into a reality.
Although the product, which launched on Kickstarter on Nov. 13, comes in basic sizes and colors, don't let the hoodie's outward simplicity fool you. This oversized hood has superpowers. It contains a removable, inflatable ergonomic pillow that is designed to inflate and deflate easily with a valve, making the next snooze as easy as flip, breathe, zzzz.
Related: Garmin unveils Varia Vision, touts tech to boost cyclist safety
These wearable sleep aids are made in Los Angeles and come in fleece, French terry, cotton and nylon, with options for men, women and children. Hypnos also offers some versions in pullover or zip front styles.
On its Kickstarter page, Hypnos writes, "the demands of modern life can catch up with us all. Hypnos was originally created for and remains devoted to the traveler, jet setter, nomadic families and anyone who loves comfort on the go."
Related: Rise of smartwatches prompts top Japanese university to ban ALL watches from exams
It looks as though plenty of people share this vision. As of the publication of this story, 1,080 backers had pledged $110,953 for the campaign on Kickstarter, while the original goal was to raise $30,000.
The campaign ends on Jan. 11.