Intel debuts new, revamped compute stick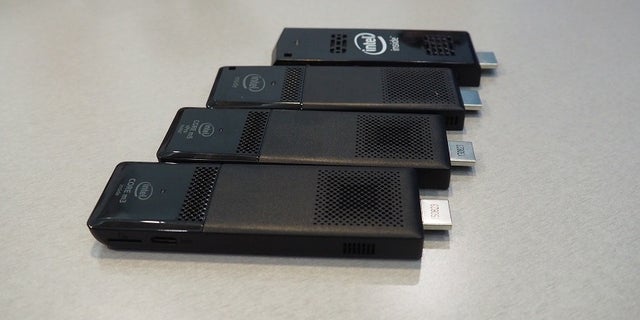 LAS VEGAS – At CES last year, Intel debuted one of their most intriguing products: the compute stick, a mini PC with an HDMI port that turns any large monitor into a computer. Just plug it into the back of your TV.
This year, while not reinventing the wheel, they've at least made it turn a little better. At CES, Intel debuted three new Compute Sticks with newer, faster processors and stronger Wi-Fi capabilities in a sleek new matte body with more ports than last year's Compute Stick. The new Compute Stick measures 4.5 inches long and 1.5 inches wide, so they can go anywhere you do.
At base level, the new Compute Stick, which will retail for $159, has an Atom x5-z8400, 2GB of RAM, and 32GB of internal storage, and can come with either Windows 10 preinstalled or without an operating system. It comes now with two USB ports, one USB 2.0 and one USB 3.0, whereas last year's Compute Stick only had one USB 2.0 port. It also now supports dual-band 802.11ac Wi-Fi, giving it a much stronger connection than last year's model.
Intel also added a couple other more powerful Compute Sticks, one running a Core m3 and the other a Core m5 processor. Both of these are slightly—very slightly—larger in size than the Compute Stick with the Atom chip in it, and both have 4GB of RAM and 64GB of internal storage, though they do lose one USB 2.0 port. Not to fret, however—Intel is including a couple USB ports in its power charger, so as long as you've got that plugged in along with the Compute Stick, you should be good to go.
Mobile PCs really seem to be taking off. The InFocus Kangaroo, for example, is an interesting product can turn your iPad (or other monitor) into a Windows 10 machine, and this new and improved Compute Stick looks just as promising for providing computing on the go. Rumor is, too, that Intel is working on a mobile PC for gaming as well, but we'll have to wait and see about that one.