Injured Panthers linebacker playing in the Super Bowl with 3D-printed arm brace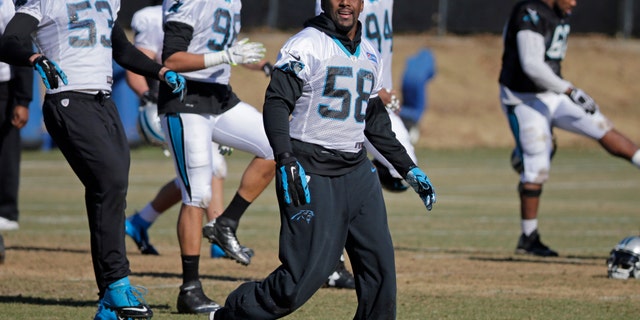 When it comes to the Super Bowl, not even a broken arm will keep dedicated players from participating in the championship game. And now with 3D printing, players can compete with relative comfort and minimal impact on the injury. Take, for example, the Carolina Panthers' Thomas Davis, who broke his arm a few weeks ago in the NFC title game and is now slated to play in Superbowl 50 on Sunday thanks to a successful repair surgery and a new 3D-printed arm brace.
Davis, an All-Pro outside linebacker for the Panthers, broke his arm during the AFC title match against the Arizona Cardinals. Davis was hurt in the second quarter when he hit Darren Fells following a catch. He underwent surgery for an ulna bone fracture the day after the injury. As part of the repair procedure, Panthers head team physician Dr. Patrick Connor inserted a plate with 12 small screws into Davis' forearm.
Related: With just a few pictures of your feet, Wiivv can make you a pair of custom 3D printed insoles
To protect the forearm during Sunday's big game, Davis will be wearing a 3D-printed arm brace designed and developed by 3D printing company Whiteclouds, reports CNet. According to Scot Perone of 3D Elite, a 3D printing company that specializes in athletic braces and helped with the Davis project, the personalized brace is comprised of a protective 3D-printed plastic polymer and is lined with Poron XD, a shock-absorbing material that will protect the arm from in-game impacts.
The brace was printed using 3D scans of Davis' arm after the injury and was sent to the player this week for testing. The linebacker was on the field this week with the Panthers in San Jose ahead of Sunday's big game, and was a full participant in the team's most recent practice, which lasted for 1 hour and 15 minutes. Davis reportedly selected the 3D-printed brace after testing three other, more traditional ones. He chose the custom printed model for its toughness. Speaking to Charlotte Observer reporter Jonathan Jones after the Panther's Wednesday practice, Davis said he "took every opportunity that I could to bump it against something and really see how it feels."
If Davis plays with the brace, he will become the first NFL player to wear a piece of 3D-printed equipment in an official league game. Not only will he make history with the brace, it also won't hold him back from competing at his maximum ability. "It's going to be something that's definitely manageable, that's not going to affect my way of play," Davis said to the LA Times following the practice session.