In time for Earth Day, Apple unveils 'Daisy,' its second iPhone-disassembling robot
Ahead of Earth Day on Sunday, Apple has unveiled "Daisy," its second iPhone-disassembling robot two years after introducing the world to its "Liam" device.

Daisy can take apart 200 iPhones per hour and is able to remove and sort components, "so that Apple can recover materials that traditional recyclers can't — and at a higher quality," the company said in a press release.
"Created through years of R&D, Daisy incorporates revolutionary technology based on Apple's learnings from Liam, its first disassembly robot launched in 2016," Apple added in the release. "Daisy is made from some of Liam's parts and is capable of disassembling nine versions of iPhone and sorting their high-quality components for recycling."
APPLE IS FIXING THE MOST JARRING THING ABOUT IPHONES
Daisy is able to disassemble most of Apple's iPhones, ranging all the way from the iPhone 5s to the iPhone 7 Plus. Its previous disassembly robot, Liam, which was launched in 2016, was custom built to disassemble the iPhone 6, according to a white paper on the robot.
The first Daisy robot is now operational in Austin, TX. and a second one will be put to use in the Netherlands, according to Fox 15 Abilene. The company is also working on a patent for the robot, which Apple hopes to expand its usage of.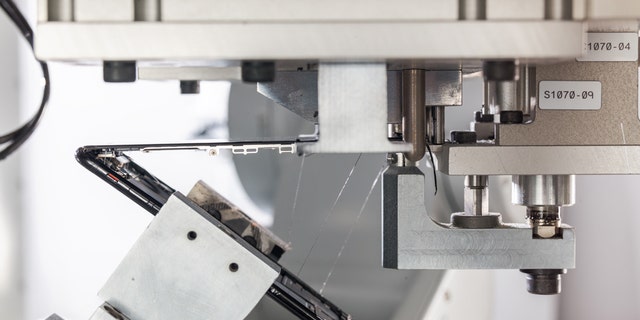 Daisy is able to take apart the iPhone and gather the phone's main logic board, speaker, and rear camera and other parts that contain high-quality materials, important at a time when some of these components are made using rare-earth elements.
China held approximately 95 percent of the rare-earth production as of 2015, according to CNN. However, a recent find of vast reserves of rare-earth elements on a tiny Japanese island, has been described as a "game changer."
TREASURE ISLAND: RARE METALS DISCOVERY ON REMOTE PACIFIC ATOLL IS WORTH BILLIONS OF DOLLARS
The announcement of Daisy is in conjunction with Apple's broader efforts for Earth Day, Sunday April 23.
Led by Lisa Jackson, Apple's vice president of Environment, Policy and Social Initiatives, Apple has worked to "minimize its impact on the environment by addressing climate change through renewable energy and energy efficiency, using greener materials" and other initiatives.
The company recently announced that its global facilities, including retail stores, offices, data centers and co-located facilities in 43 countries are now powered with 100 percent clean energy.
Apple also announced it is launching a new program known as "GiveBack," which lets people trade-in and recycle their devices at Apple Stores and online. As part of "GiveBack," Apple is making a donation to Conversation International for each Apple device traded-in before April 30. The company said that eligible devices that are traded in will get credit for future Apple purchases.
CHEAPER 2018 IPAD IS A STEAL FOR CONSUMERS
"At Apple, we're constantly working toward smart solutions to address climate change and conserve our planet's precious resources," Jackson said in the press release. "In recognition of Earth Day, we are making it as simple as possible for our customers to recycle devices and do something good for the planet through Apple GiveBack."
Lastly, Apple released its 11th annual "environmental responsibility report," detailing Apple's focus on using green energy, climate change, using safer materials in its products, sustainability and environmental responsibility.
Follow Chris Ciaccia on Twitter @Chris_Ciaccia