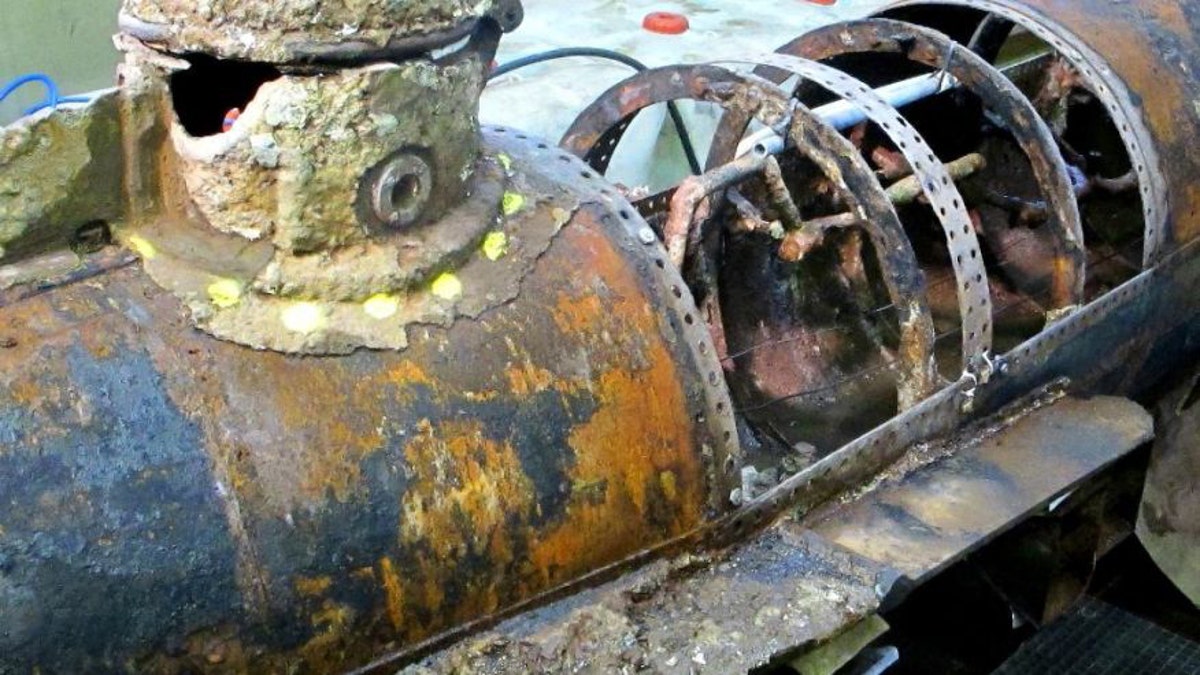 The demise of the H.L. Hunley, the Confederate submarine and the first to sink an enemey warship, has been a mystery to researchers since it disappeared in 1864. Until now.
Researchers believe they have solved the mystery behind the Hunley's disappearance on Feb. 17, 1864, just after it destroyed the USS Housatonic in Charleston Harbour. It's likely the crew of eight was killed instantly by the blast of its own torpedo.
INSIDE CIVIL WAR SUB: GEARS, CRANKS -- AND A TOOTH
"The pressure wave from the explosion was transmitted into the submarine. It was sufficiently large that the crew were killed," said Rachel Lance, a graduate student in injury biomechanics at Duke University, North Carolina in Nature.
The Hunley was outfitted with a single black gunpowder-filled copper cylinder, which Lance noted was about the size of a beer keg."
The theory that it sank because of the torpedo started to gain acceptance when researchers found the explosive charge and the submarine were still attached. Copper ribbons from the charge were also found.
Other theories that have been suggested previously include a collision with another ship or an incapacitated crew.
HULL OF CONFEDERATE SUB H.L. HENLEY - FIRST TO SINK ENEMY WARSHIP - CLEANED AND REVEALED
Lance, along with other researchers, simulated the force from the torpedo with a scale model. According to the findings, which were published in PLOS One, "the calculated chances of survival were less than 16% for each crew member. The submarine drifted to its resting place after the crew died of air blast trauma within the hull."
Despite sinking more than 150 years ago, the wreckage of the near 40-foot Hunley was not found until 1995 and it was finally raised from the seabed in 2000.