Huffington Post writer's Garmin outs her cheating at half marathon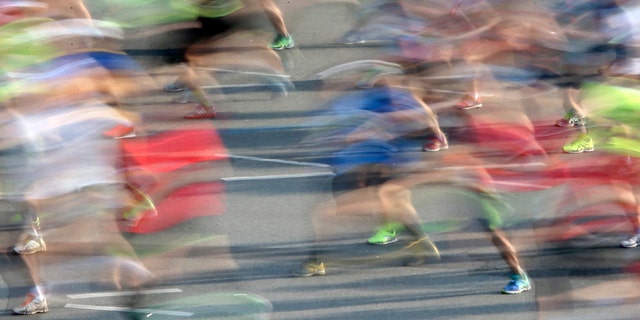 A Huffington Post lifestyle writer and food blogger saw her blazing-fast marathon time go up in smoke after an investigation revealed she cut part of the 13.1-mile course.
Jane Seo — a 24-year-old Harvard-educated writer who covers food in New York and contributes to the Huffington Post — aroused suspicions after the Fort Lauderdale Half Marathon on Sunday when an official noticed that her timing chip showed unusually fast miles throughout the second half of the race, the Miami New Times reports.
The official then confronted Seo, but she was able to persuade race director Matt Loraine to keep her listed as the second-place finisher with a time just under 1 hour and 22 minutes, a speedy pace of 6 minutes and 15 seconds per mile.
The mysterious results eventually caught the eye of Derek Murphy, a business analyst who has become the "world's best internet sleuth" at busting cheating roadrunners. Murphy uncovered a photo of Seo at the race's finish line that depicted her Garmin watch, which she used to keep her own time. After enlarging the photo, Murphy found that Seo's watch matched her posted time but showed that she only covered a distance of 11.65 miles, or 1.45 miles short of the full half marathon.
DRONE TO HUNT DOWN CHEATS IN 'WORLD'S TOUGHEST EXAM'
That led Murphy to investigate Seo's mile splits and he found that she ran the first 10 kilometers at a pace of 7 minutes and 9 seconds per mile, while increasing her speed to a blistering pace of 5 minutes and 25 seconds in the remaining 11 kilometers.
"Very few, if any, runners could shave a minute and a half off their splits in the second half of a race," the Miami New Times reports. "But there was more evidence."
Seo later posted on Strava.com — a social network for athletes — her mile-by-mile stats from the 13.1-mile course, which traced along Fort Lauderdale Beach for most of the stretch. But Murphy noticed that the records were more in line with a person riding a bicycle than someone running solely on their feet.
Seo, who did not return a message seeking comment from The Post, later admitted that she went back and biked the entire course to cover her tracks by GPS, the Miami New Times reports.
SMART MATTRESS WILL OUT YOUR LYING, CHEATING SPOUSE
Murphy detailed his probe into Seo on his website, marathoninvestigation.com, where he posted an apology that Seo posted on Instagram late Monday.
"I made a HORRIBLE choice at the Ft. Lauderdale Half Marathon on Sunday, Feb. 20," Seo wrote, according to Murphy's website. "I wasn't feeling well so I CUT THE COURSE and headed to the finish line. I got swept away in the moment and pretended I ran the entire course, when in fact I CHEATED and should have DISQUALIFIED myself."
Seo has also lost her spot on the Dashing Whippets Running Team, a New York-based running squad.
"As some of you may be aware, one of our members intentionally cut the course at a Half Marathon this past weekend," according to a statement on the group's website. "The member in question has admitted to cheating, has been officially disqualified from the race, and has apologized to the DWRT Board."
This article originally appeared on the New York Post.