HTC Evo 4G LTE Hands-on: HD Voice, Blazing Camera, Unlimited Data for $199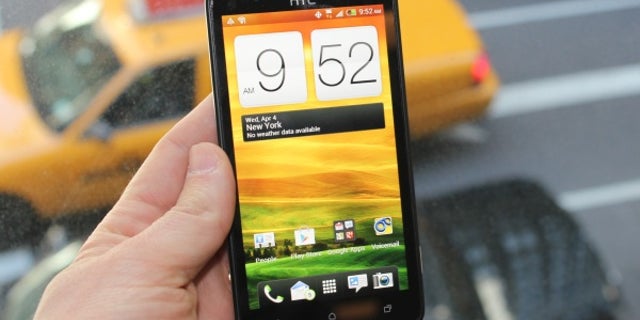 NEWYou can now listen to Fox News articles!
The original superphone has been reborn. If you feel like the iPhone 4S and Galaxy Nexus are just sloppy seconds for Sprint, take a good look at the HTC Evo 4G LTE. This Android 4.0 powerhouse has all the makings of a real halo device for the carrier, reminiscent of the original Evo 4G back in 2010. Available for pre-order May 7th, the $199 Evo 4G LTE sports a sleek aluminum design (including a kickstand), the same superfast camera that's inside the HTC One X, a 1.5-GHz Snaprdragon S4 CPU, and unique features like support for HD voice calls and a microSD card slot.
More good news. Sprint has confirmed that it's committed to offering unlimited 4G LTE data, though coverage will be sparse for a while. Check out our hands-on impressions of the Evo 4G LTE along with a quick video walkthrough and gallery.
The Evo 4G LTE definitely makes a statement. The 4.7-inch Super LCD 2 screen offers HD resolution along with extra-wide viewing angles and great color saturation. Weighing 4.7 ounces and measuring .35 inches thick, this handset felt very light in the hand despite the large display, and the aluminum unibody construction is solid. We especially like the silver machined edges on the Evo 4G LTE.
Our only nitpick is that the top half of the back is glossy black plastic, which picks up fingerprints quickly. The good news is that this panel hides a microSD card slot, so you can expand the storage.
Another feature that's unique to the EVO 4G LTE is support for HD Voice calls. The dual microphones will go a long way towards eliminating background noise, but Sprint will also have to upgrade its network in order for users to make HD calls, which will happen later this year. The enhanced voice quality will be available in both 3G and 4G coverage areas.
A 1.5-GHz Qualcomm Snapdragon S4 processor provided swift performance during our brief hands-on, but it's the 8-MP camera that will blow people away. Just like the One X, the Evo 4G LTE starts up almost instantly with the push of a button and lets you capture multiple images in rapid fire mode. You can then select the one you want and discard the rest.
Last but not least is Beats support, which is designed to make everything from music and movies to YouTube videos sound better when you have headphones plugged in. The Evo 4G LTE will also be sold with the HTC Media Link HD for streaming content to your TV and multiple car accessories.
As for where you'll be able to get 4G LTE speeds from Sprint, the carrier has only announced 6 markets for the first half of the year, but promises to reach 120 POPs by the end of the year. Based on what we've seen so far, the Evo 4G LTE has the features, design, and software to go toe-to-toe to not only get the 7 million existing Evo owners excited about upgrading but also lure a heck of a lot new customers.