How to zap photos from Facebook's new couple pages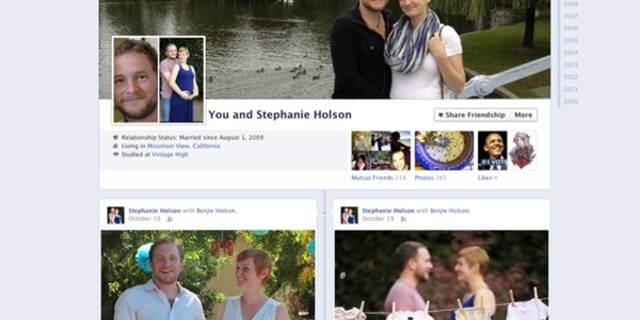 Facebook has just launched relationship and friendship pages in the Timeline layout. For some, these pages may seem like sweet pictorials of time spent together, but others may feel the pages cross the privacy line. Don't worry, though — you can still edit these joint pages, just like your own profile.
With friendship pages, you get to see yourself paired with each of your Facebook friends, along with photos of the two of you together, a list of mutual friends, and all of your shared posts, all in the Timeline format most have grown to love or hate. And if you've specified that you're "in a relationship" with someone, the two of you get a special "us" page.
[Break up? Read: How to Remove Your Ex From Your Digital Life ]
Friend pages really aren't new. Facebook launched them in 2010, but what is new is the big focus on photos and your ability to edit them. Couple pages, however, are entirely new. For both types of pages, Facebook pulls photos in which both you and your friend or significant other have been tagged. However, if you don't like Facebook's automated selections, you can change them. Here's how:
Go to a friend's page; click the gear icon at the top of your friend's Timeline, and select "See Friendship." You can see relationship pages by logging into your Facebook account and then navigating to facebook.com/us. (Note that the other person in the couple must confirm the relationship before it appears as part of a Facebook profile, a safeguard against crushing teens and others who may not have a realistic view of their coupledom.)
You can use the same editing steps for both types of joint pages. Hover over the cover photo until the edit icon appears, and then choose a new photo, just like when editing your own cover photo . You can also highlight certain posts and make them larger by clicking the star icon. Or you can hide posts from a page. But keep in mind that this only removes the story from your page. It may still be visible on your partner's page, unless you delete the post entirely.
Facebook said in its blog that they would roll out the new Timeline joint pages out over the next few days. The new pages are not part of Facebook mobile.
How to Avoid Top 5 Black Friday Traps
True Love? Say It with Rushing Yardage
Watch Out For 'Facebook Timeline Remover' Scam
Copyright 2012 TechNewsDaily, a TechMediaNetwork company. All rights reserved. This material may not be published, broadcast, rewritten or redistributed.