How the Florida high school shooting unfolded on social media
In a country familiar with scenes of students being evacuated during shootings, the massacre that claimed the lives of 17 people at a South Florida high school on Wednesday unfolded in particularly heartbreaking and harrowing fashion on social media.
Students at Marjory Stoneman Douglas High School, many of whom barricaded themselves in classrooms to stay safe, began frantically texting parents and loved ones and posting to social media to plead for help as accused gunman Nikolas Cruz, 19, made his way through the school with his AR-15 rifle, multiple magazines of ammunition and grenades.
Other students recorded videos—showing classmates either hiding beneath desks, screaming in fear or raising their hands in the air as first responders arrived—as the incident was happening. Some of those videos were posted to Snapchat and later shared with news outlets on Twitter.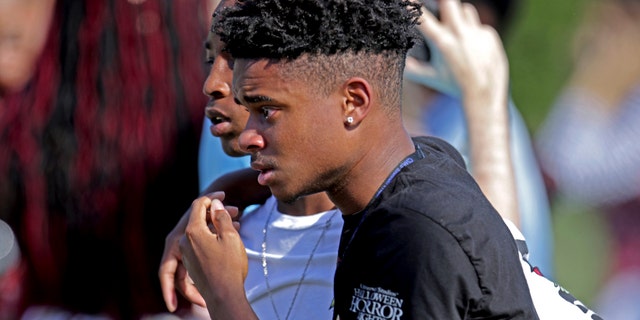 NIKOLAS CRUZ CHARGED IN FLORIDA HIGH SCHOOL SHOOTING
Since so many images and videos were posted online, the FBI set up a special website where they can be shared with law enforcement as investigators try to piece together what took place at the school. Many of the videos and tweets ended up being shared widely as news spread.
One student's awful message to a parent: "If I don't make it I love you and I appreciated everything you did for me."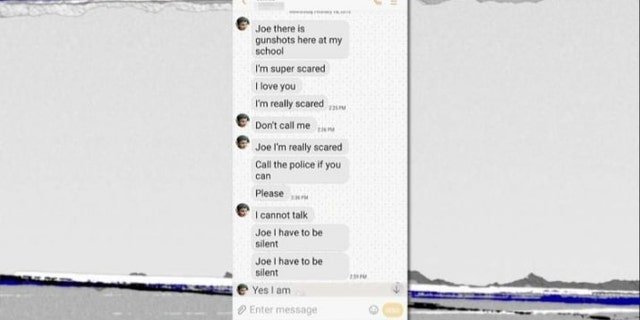 A sophomore at the high school named James Harrison texted his stepfather, "I love you," and said he was "really scared." He also asked his stepfather to call the police and not to call him, because he needed to stay silent.
"I just couldn't believe it because there were so many shots that I heard and I was so scared and I was so anxious because I didn't know what was going on," Harrison, who was reunited with his family, told Fox News after the shooting.
A parent told Fox News "all the kids are posting videos on social media" and parents are trying to deal with how to handle the added trauma of seeing the moments relived in posts online.
Another student took a video as a SWAT team entered the classroom, telling students to put their hands up and their phones away.
The day after the rampage, the hashtag #GunReformNow was trending on Twitter, as people voiced their opinions—pro and con—on the topic.