How is Wikileaks publishing files even after Assange's Internet was cut?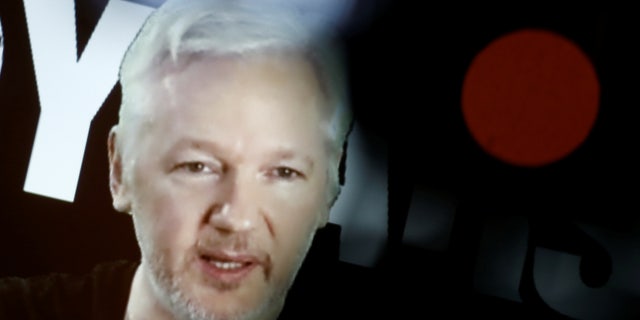 Cutting the Internet cord on Julian Assange has not silenced the WikiLeaks mastermind, who likely has multiple backup systems in place to ensure his reign of terror on the politically powerful continues long after he loses web access.
Assange has been holed up in the Ecuadorean Embassy in London for five years, but Wikileaks managed on Tuesday to unleash yet another massive dump of emails hacked from key Hillary Clinton aide John Podesta. Those disclosures came a day after his international hacktivist group said their leader's access to the cyber world was severed by the South Ameerican government.
Experts contacted by FoxNews.com suggest that there may be a variety of ways WikiLeaks could continue to release documents even with Assange's Internet access gone, from forms of communication that don't involve the Internet to a dead-man's switch.
"The simplest explanation is that the rest of WikiLeaks has access to unreleased documents, online accounts, and servers, and a protocol to operate if they cannot communicate with Assange," Shuman Ghosemajumder, the CTO at Shape Security, told FoxNews.com in an email.
It's unclear just how Ecuador cut off Assange's Internet access, so it's possible the WikiLeaks founder still has some form of connection, Ghosemajumder speculated. The could be "something as simple as connecting to an external WiFi access point, to using a MiFi connection, to having access to a telephone and using dialup," he said.
And even without Internet access, there are still ways to get a message out to the rest of his organization, Ghosemajumder pointed out, writing that "if he is able to communicate with the external world in any way, he can at least give the rest of WikiLeaks instructions."
And while Ghosemajumder said that there are easy ways to set up a dead-man's switch— one method would involve a computer automatically publishing documents if it doesn't get a routine message not to from Assange— that might not have been necessary.
"If there are other people in the WikiLeaks organization with access to the same documents and a protocol to operate if they cannot communicate with him, there's no need for a 'digital' dead man's switch," he said.
Gary Miliefsky, CEO of Snoopwall, agreed with Ghosemajumder that Assange may have other ways to get online.
"He could use cellular technology and a VPN client to get on the internet wirelessly," he wrote in an email to FoxNews.com.
And the WikiLeaks servers are no joke, he pointed out.
"Currently, WikiLeaks is hosted mainly by the Swedish internet service provider Bahnhof in the Pionen facility, a former nuclear bunker in Sweden," he said. "Other servers are spread around the world with the main server located in Sweden."
Then there's the concept of a dead-man's switch, which Assange could have arranged for, Miliefsky said.
"He could have setup (which many believe and he's stated in the past) a 'deadman's switch' where backup sites on all the leaked data could be ready to pour out information under pre-instructions provided by him or his top staff located anywhere in the world," Miliefsky said. "It seems after a few CRYPTO message tweets that the deadman's switch was triggered."
The tweets that Miliefsky was referring to contained codes— series of letters and numbers— and the phrases "pre-commitment 1: John Kerry," "pre-commitment 2: Ecuador" and "pre-commitment 3: UK FCO."
Those tweets were published before WikiLeaks announced that Assange's Internet connection was cut. Miliefsky said that the codes could be unlock keys for specific files, and it's unclear whether the tweets were manually written or set up in advance.
Josh Wieder, a technical consultant, said that the leaked documents might have been on other computers.
"It seems likely that a copy of these documents would be available on a remote server that multiple staffers have access to, in which case Assange could notify staffers via phone, SMS, letter, carrier pigeon, etc to proceed with publication of those documents without his assistance," he told FoxNews.com in an email. "Shared copies of these documents could be encrypted with multiple public encryption keys, so that multiple parties could decrypt the documents as needed without the need to share key or authentication data."