How Ellen DeGeneres' Oscar selfie could have included more celebrities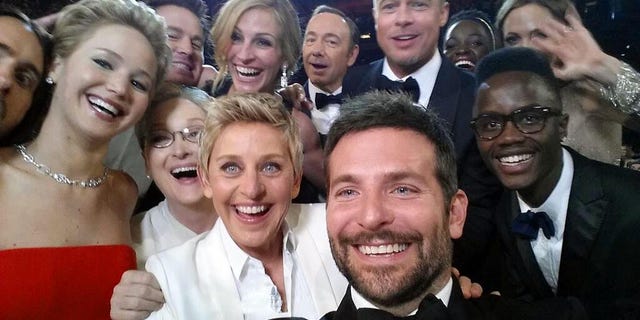 In Ellen DeGeneres' tweet from the March 2 Oscar ceremony, she wrote: "If only Bradley's arm was longer. Best photo ever." The shot included DeGeneres and Bradley Cooper as well as A-list celebs such as Jennifer Lawrence, Meryl Streep, Julia Roberts, Kevin Spacey, Brad Pitt, and others.
It is a great photo, wonderfully composed and full of good-looking people with beautiful smiles and twinkling eyes. And it was shot on a Samsung smart phone, on the spur of the moment. But could it have included more of those attractive faces?
For more on cameras and camera accessories, check our buying guide and Ratings for cameras.
You can get an even better picture the next time you're shooting a group, whether it's a bunch of celebs or just you and your friends. Squeezing in so many celebs was a challenge for the fotog, Cooper, because his phone didn't have a wide-angle photo setting.
To fit a bigger crowd into your shot, attach an Olloclip or Photojojo lens to your phone. (Put the least important people—or those whom you like the least—on the edges of the group, because faces there can get distorted.) And use your phone's rear-facing camera rather than the lower-resolution front-facing one.
That's not to take anything away from this great photo. In fact, I think the art critic for New York Magazine might want to update his recent article on the history of the selfie to include this historic tweet.
Copyright © 2005-2014 Consumers Union of U.S., Inc. No reproduction, in whole or in part, without written permission. Consumer Reports has no relationship with any advertisers on this site.