High-tech sponge can save lives in less than 20 seconds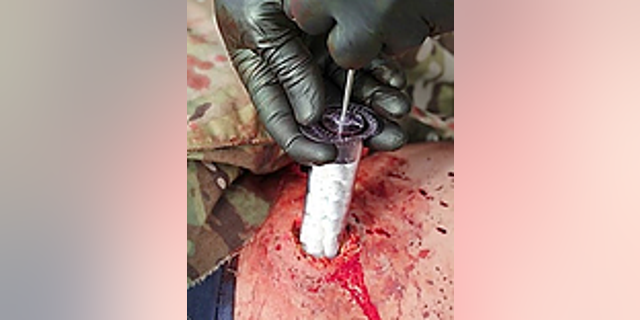 What if a small sponge could mean the difference between life and death?
A plug for life-threatening situations, XSTAT technology can plug a gunshot wound within a mere 20 seconds.
Made by Oregon-based RevMedx, the tech was developed for the battlefield with funding from U.S. Special Operations Command and the U.S. Army Medical Research and Materiel Command's Combat Casualty Care Research Program.
Related: Could the US deploy 'cyborg' troops?
The leading cause of death on the battlefield is uncontrolled external hemorrhage.
XSTAT helps solve this problem and has been used by the military for more than a year to treat wounds inflicted on the battlefield – but now the U.S. Food and Drug Administration has cleared the technology to be used to save lives on U.S. soil.
Quick control of severe bleeding is absolutely critical to saving lives and preventing shock, whether at home or in the war zone.
Related: $1 million guns made of meteorite
According to the United States Army Institute of Surgical Research, 30 to 40 percent of civilian deaths by severe injury are the result of hemorrhaging. Of those deaths, up to 56 percent of the patients bled out before reaching a hospital and the treatment they need.
Bullets, knives or shrapnel can cause penetrating wounds in junctional areas. Junctional wounds are areas where the legs and arms meet the torso, like the groin – not exactly tourniquet-friendly spots. XSTAT is designed to treat life-threatening junctional wounds that are notoriously tough to stop bleeding.
How does it work?
Think of the children's toy where you drop a capsule into bath water and the sponge rapidly expands, transforming into something cool like a dinosaur.
Related: Air Force, Marines, bolster air power with major Super Hercules deal
Say someone has a gunshot wound or is a stabbing victim ... first responders could immediately deploy XSTAT to buy the victim critical time to get to surgical response.
XSTAT is very easily applied. The delivery device looks like a fat 30 mm diameter syringe. Inside the transparent tube there are compressed sponges that look like pellets.
The syringe injects these tiny, highly absorbent, sponges. When the sponges make contact with blood or fluid inside a wound they expand to up to 10 times their original size. Rather than getting pushed out as they expand, the sponges continue to cling to the moisture.
By creating pressure, the sponges block bleeding. This creates a temporary barrier to blood flow and provides hemostatic pressure. Within 20 seconds or less, the sponges can stop hemorrhaging.
What's it made of?
The tiny sponges are made from wood pulp – a plant-based material that won't dissolve into the body and are coated with absorbent and antimicrobial materials like chitosan. Chitosan promotes blood-clotting while being resistant to bacterial infection.
Related: Can the US military build Star Wars-style laser cannons for its troops?
Each XSTAT syringe contains approximately 92 sponges. Depending on the wound's depth and size, a varying number of sponges will be necessary to achieve control of the bleeding. The sponges in each XSTAT applicator can absorb a pint of blood and up to three applicators can be used on one patient.
The sponges buy the gunshot victim up to four hours – providing time for the first responders to transport the patient to a hospital and then for the medical team to get him or her into surgery.
Once at hospital care, medical personnel can be certain all sponges have been removed because the sponges also contain markers that will show up on an X-ray.