Has Derek Jeter hit a social media home run?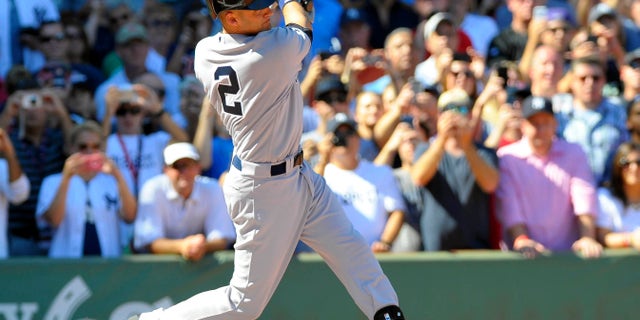 Derek Jeter's stellar 20-year career with the New York Yankees may be over, but his ambitious new publishing venture is already being touted as a potential game changer in sports media.
On Wednesday Jeter launched The Players' Tribune, a website describing itself as "a new media platform that will present the unfiltered voices of professional athletes." The former Yankees shortstop is the website's founding publisher.
"I think it's a fantastic test for both the sports business and digital media," Liza Horan, principal of digital media strategy consultancy MediaMoxie, told FoxNews.com. "Why would an athlete reveal news in an interview, when they can break news on 'their own' media property?"
Although famed for his guarded approach to media interviews, Jeter has big ambitions for The Players' Tribune.
"I am working with other athletes, with editors and with producers to create a platform that gives us a chance to say what's on our minds," he wrote in a letter posted to the site. "My goal is for the site to ultimately transform how athletes and newsmakers share information, bringing fans closer than ever to the games they love."
With the launch generating massive buzz, there has already been speculation about the site's value to a potential acquirer should it prove successful. Although a more traditional sports property, digital media company The Bleacher Report was reportedly acquired for around $200 million by Turner Broadcasting System in 2012.
Could The Players' Tribune eventually reach a valuation in the hundreds of millions of dollars? Quite possibly, according to MediaMoxie's Horan.
"The sky's the limit, it's the American Dream," she told FoxNews.com.
Courtney Brunious, associate director of the University of Southern California's Sports Business Institute, believes that the website could be a social media home run for Jeter. Athletes, he told FoxNews.com, can give a fresh perspective by speaking directly to fans, a message which will be amplified by Jeter's star power.
"Jeter has built a fan base that's interested in anything that he does – he can also bring people in through the strength of his brand," Brunious said.
The 40 year-old future Hall of Famer has been a brand magnet through the course of his career, clinching deals with Nike, Gatorade, Steiner Sports, Rawlings, Movado, 24-Hour Fitness, Avon and health food company Luvo. Thanks partly to these endorsements, Jeter has a net worth of $185 million, according to TheRichest.com.
Vicki Michaelis, professor of sports media at the University of Georgia's Grady College, agrees that The Players' Tribune could have a big impact.
"I think it's very powerful," she told FoxNews.com. "This is definitely another step in the evolution of social media – the middle man, the media is being removed from the relationship with the fans."
Seattle Seahawks quarterback Russell Wilson, listed as senior editor, is the site's first contributor, and has penned a column on domestic violence.
At this stage, however, specific details of The Players' Tribune, such as future contributors, the scale of Jeter's investment, and even its business model, have not been revealed.
Forbes reports that Jeter is the main investor for the website and will maintain a hands-on role. Legendary Entertainment, the movie and TV production giant behind blockbusters such as "The Dark Knight" and the "Hangover" series, is also involved. In a statement released on Wednesday, the film company said that it will be providing "creative support as well as capital" to The Players' Tribune. Legendary Entertainment declined to provide additional details about its investment when contacted by FoxNews.com.
Jeter has already brought in some big hitters to work on The Players' Tribune. Gary Hoenig, former editorial director of ESPN Publishing, is the new website's editorial director. Maureen Cavanagh, former photography director for Sports Illustrated, is The Players' Tribune creative director. Other hires include Sarah Turcotte, former general editor at ESPN The Magazine, who serves as the site's executive editor.
However, despite all the buzz around Jeter's latest venture, there are plenty of hurdles in its path, according to Horan.
"There could be rights issues," she told FoxNews.com. "That's one of the gory details that has to be worked out."
An Adidas-sponsored contributor to the site, for example, could pose a branding problem, given Jeter's close relationship with Nike, according to experts.
Jeter's promise of "unfiltered voices" will also be closely scrutinized. "We will see how unfiltered these comments really are, because a lot of these athletes have publicists who ensure that they stay on message," said USC's Brunious.
Then, of course, there's the challenge of keeping readers engaged. "It's going to depend on the day-to-day content flow and how interesting it is," said Brunious. "Readers are going to want something that's more interesting than your typical 'player speak'."
"I think that what he's doing is good, but if they are going to sell advertising off this site, they are going to have to get a lot of eyeballs," added Rick Burton, Falk Professor of Sport Management at Syracuse University. "You would need a lot of content."
Alvin Lieberman, a marketing professor at NYU and director of the school's entertainment, media, and technology program, sees fierce competition for The Players' Tribune. "Jeter has to fight among the 200-plus cable channels and the many thousands of social networks," he told FoxNews.com. "Will he make an impression? Yes. The question is, how long will it last?''
Sports and entertainment consultant and Columbia University Professor Joe Favorito told FoxNews.com that, at this stage, it's impossible to make any long-term predictions about Jeter's website. "Whether it's a viable business, no one can say, because no one really knows what it is yet," he said.
The Players' Tribune has not yet responded to a request for comment on this story.
Follow James Rogers on Twitter @jamesjrogers